Al Sharpton's Organization Slams 'Duck Dynasty' Star Phil Robertson's 'Narrow-Minded' 'Cretinous' Comments On Race & Gay People: 'He Is Not An Authority On The Black Experience'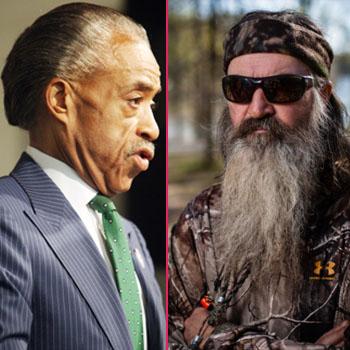 This time, it's avid hunter Phil Robertson who is under fire. The Duck Dynasty star has ignited controversy after making inflammatory remarks about race and gay people in an interview for GQ released today. And now, a rep for Al Sharpton's National Action Network is speaking out to RadarOnline.com to slam his "narrow minded delusions."
"The comments made by Phil Robertson represent ignorance in its highest form," NAN's National Executive Director, Janaye Ingram, tells RadarOnline.com exclusively.
Article continues below advertisement
Robertson had said, ""I never, with my eyes, saw the mistreatment of any black person in the pre-civil rights era South. Not once. Where we lived was all farmers. The blacks worked for the farmers. I hoed cotton with them. I'm with the blacks, because we're white trash. We're going across the field.... They're singing and happy. I never heard one of them, one black person, say, 'I tell you what: These doggone white people'—not a word!... Pre-entitlement, pre-welfare, you say: Were they happy? They were godly; they were happy; no one was singing the blues."
Ingram insists, "His narrow-minded delusions about the state of happiness felt by black people during the 50s and 60s civil rights era are some of the same arguments spewed by the proponents of Jim Crow laws at that time and obviously are contrary to the truth. He is not an authority on the Black experience, no matter how many Black people he has known, seen, or heard sing."
"The striving for equal rights would have never had to pass through him to be achieved, and most importantly, could have put those Blacks who did complain at risk if he or his family believed that blacks were inferior and in their rightful place in society," she continues. "Because of that, I would never expect him to be an expert on what the Black experience was like at that time. Even with his statement, he addresses the inequality that existed by almost asserting that the only reason he was with or around Black people was because he and his family were 'white trash.' He may accept a lower than equitable status for himself and his family, but he cannot transfer his acceptance to black people."
Article continues below advertisement
In addition, Robertson insulted gay people in the explosive interview, saying, "It seems like to me, a vagina -- as a man -- would be more desirable than a man's anus. That's just me. There's more there! She's got more to offer. I mean, come on dudes! But hey, sin: It's not logical, my man. Start with homosexual behavior and just morph out from there. Bestiality, sleeping around with this woman and that woman and those men ... they won't inherit the kingdom of God. It's not right."
Celebs Who Have Come Out As Gay Or Bisexual
Sharpton's organization takes issue with those comments as well. "As for his comments about homosexuality," Ingram says, "it is the type of cretinous beliefs he has that breed homophobia and fail to see the humanity in people within the LGBT community. For him to utter in the same sentence homosexuality and bestiality leads to fear mongering that further alienates people who identify as gay, lesbian, or transgendered. His comments reflect the onerous amount of work that still has to be done to change opinions and attitudes about minority populations like blacks and individuals within the LGBT community."
Robertson has since backtracked from his comments about gay people, saying "I would never treat anyone with disrespect just because they are different than me." Still he insists, "women and men are meant to be together."
Will you still watch his show after these statements? Let us know in the comments!