Exclusive
Mental Illness, Alcoholism, Drug Abuse & Suicide: The Dark Side Of 'Duck Dynasty' Revealed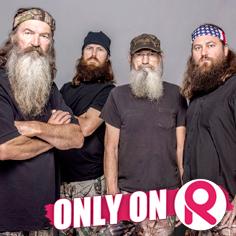 With humor, faith, and down-home charm, the Robertson family of smash A&E hit Duck Dynasty has won over millions of viewers. But behind the smiles -- and gnarly beards -- is a dark and tragic family history. Now, fan favorite Si Robertson is revealing the mental illness, alcoholism, and suicide attempts that went down when the cameras weren't rolling in his new book, Si-cology: Tales and Wisdom from Duck Dynasty's Favorite Uncle.
Article continues below advertisement
Life before fame was not easy for Si and his brother, Phil, the star of the show. When both were small children, their mother "suffered a nervous breakdown and was diagnosed as manic-depressive," Si writes, confessing, "… she spent a lot of time in hospitals and the state mental institution."
Admitting his own brain is "faulty," Si struggled with alcohol abuse through much of his young adulthood, especially while serving in Vietnam.
"Although I was there for only one year, it was a really difficult time in my life," he admits. But quickly, he found solace in alcohol.
"Believe me, it was easy to find a drink in Can Tho if you wanted one," Si writes. "…You could find a drink and a girl whenever you wanted for the right price."
"It was the only time in my life when I drank heavily," he admits. "Now, I partied during my short stay in college, but it was different in Vietnam. I was largely drinking to forget where I was. When you're in a place like Vietnam, you get to a point where you don't care any more. You're in a place that's foreign to you, and you know for a fact that many people there hate you and will kill you if they get the chance. It really does something to your mind to know that many of the people living around you don't like you and want you to die."
Article continues below advertisement
As Si spiraled out of control and took to carrying a fifth of liquor in his pocket, he admits that on two separate occasions he came close to killing innocent people -- a Vietnamese boy and a Vietnamese woman -- for hardly any reason at all.
"I drank so much beer and whiskey in Vietnam that I decided I would quit drinking alcohol altogether once I returned home," he explains. "I saw what alcohol was doing to me in Vietnam and realized I needed to stop for good."
Meanwhile, Si's brother Phil was having his own struggles with drinking.
In April 1971, then-sober Si and his new wife Christine moved to Junction City, Arkansas, where Phil and his wife, Kay, were living at the time.
"It was during Phil's struggles with alcohol and drugs, so it was a really wild time to be around," Si writes. "…Phil was operating a honky-tonk bar and was drinking at the time."
Phil was even arrested for seriously injuring a couple during a bar fight.
Article continues below advertisement
"To be honest, Phil was not a very good person until he found Jesus Christ," Si writes. "But he repented his sins and is sharing the rest of his life sharing God's Word."
The Robertsons' issues were passed on to another generation when Si's son, Scott, was born in 1977.
Nearly two months premature, Scott "was trouble before he was even born," Si admits.
Shortly after birth, a liver problem damaged part of Scott's brain, Si says, and because of that, "Scott was suicidal from the time he was about five years old. His behavior was really erratic as a child. When Scott would get tired, he would throw his arms out and fall backward."
"It took me a while to realize Scott needed help," Si writes. "When Scott was angry, he was out of control and did a lot of damage."
Things reached a head when Scott was eleven and his mother caught him trying to jump out of a second-story window. After a visit to the military hospital, he was diagnosed with Asperger's and lives a happy, healthy life to this day.
In a letter to Si published in the book, Scott writes, "You are and always have been the rock this family holds to. Your faith in God as I grew up showed me that we might not always have the answers and that was okay, because God was in charge and would always take care of us. I love you, Dad, and will consider myself lucky if I grow up to be half the man you are."