Duck Dynasty's Phil Robertson 'Ripped For Eight Years' During Troubled 20s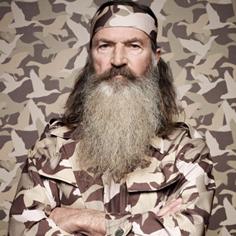 Phil Robertson of the hit reality show Duck Dynasty admits in his new tome that he battled demons such as drugs and alcohol abuse during the 1960s.
"We got drunk on anything we could get our hands on – running wild and duck hunting," the 67-year-old A&E personality said. "The only thing I seemed to be worried about were how many ducks I could kill and when my next drink was coming."
His marriage to wife Kay also suffered, as he admits his better half "was at the end of her rope" with her husband.
Article continues below advertisement
"I was always out, partying with my buddies, leaving her alone to raise our three sons," he wrote. "Kay felt her entire life was in ruins and that she had failed as a wife."
Robertson estimated he was "ripped for eight years" before a spiritual awakening at 28, and he's held down the fort ever since.
Happy, Happy, Happy is available now.