Duck Dynasty Phil Robertson And Miss Kay: Separated For 3 Months Early In Marriage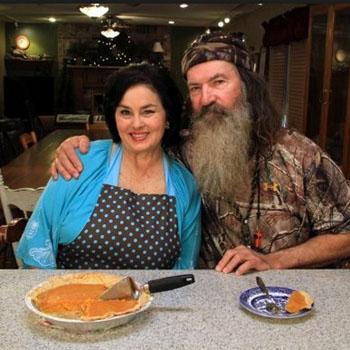 Duck Dynasty patriarch Phil Robertson and his beloved "Miss Kay" renewed their wedding vows on the season premiere of the wildly popular A&E reality show, but the redneck romance hasn't always been easy and according to a report in the National Enquirer, at one point, the couple separated for three months and hard-drinking Phil practically abandoned his kids!
When Phil was a young man in his 20s he leased a gritty dive bar, but when the couple who owned it tried to raise the rent, Phil got into a vio­lent fight with them. He ended up beating them so savagely they had to be rushed to the hospital. Phil fled the state.
Article continues below advertisement
Speaking of the incident at a recent benefit in Dallas, son Willie said: "State troopers were search­ing for him, so he runs into the woods and lives in the woods for four months running from the law."
According to the National Enquirer, Phil's wife, Miss Kay – who was just 15 when they tied the knot 49 years ago – sweet-talked the bar owners and they didn't file criminal charges. But they took out a restraining order against Phil.
When Miss Kay tried to get Phil to stop drinking, he threw her and their kids out of the house. She then moved into an apartment with the boys. Eventually, Phil found God and begged her to take him back – and she did.
"You would never guess it from watching the show because Phil and Miss Kay are still so much in love and devoted to each other," said a source. "She stood by him when he was drinking and staying out all night, but he came very close to losing ev­erything. Miss Kay was so sick of Phil that she wanted a divorce."
For more details about Duck Dynasty star Phil Robertson's troubled past pick up the latest issue of the National Enquirer on newsstands Thursday.