Exclusive
Snubbed! Duck Dynasty's Phil Robertson Bails On Barbara Walters' 'Most Fascinating People' Interview — To Go Hunting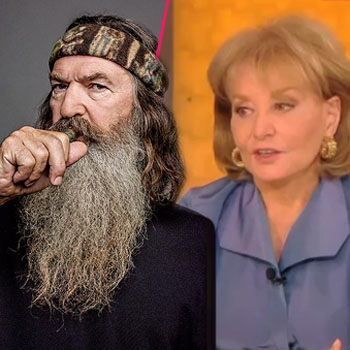 It's a duck snub!
Duck Dynasty star Phil Robertson skipped out of Barbara Walters' While the rest of the famed Louisiana natives — and A&E ratings powerhouses — showed up to last month's taping, the 67-year-old founder of Duck Commander opted to go hunting instead, much to the veteran journalist's chagrin.
For the first time in the annual show's history, we can reveal, 84-year-old Walters will joke on-air that she'd "never been superseded by a duck before."
Article continues below advertisement
The ABC newswoman even confronted Phil's wife, Miss Kay, who admitted her husband would rather shoot ducks than do the interview!
"Between November and January, I told him I didn't ever plan to die then, because he may not be at my funeral," Kay jested during the interview, which is set to air Wednesday.
Walters chuckled: "Tell him I miss him."
Phil's family went on to explain that this isn't the first time he has skipped a major event!
"Well, he missed the birth of Jase because he was in the duck line, and he wouldn't leave," Jessica Robertson explained.
So I came to get Kay. Kay was in labor… and so yes, he missed the birth of his son."
Kay, who married Phil when she was 16, tried to defend her husband.
"He was very young and immature," she said, laughing.
"I was still raising him, as I was raising my other boys."
Barbara Walters Presents: The 10 Most Fascinating People of The Year will air Wed. Dec. 18 at 9:30p.m. ET on ABC.