Exclusive
From Stadium Star To 'Duck Dynasty'! Watch Phil Robertson's College Football Debut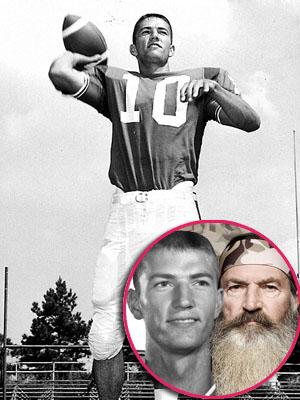 Before Phil Robertson was a Duck Commander, he was a college football star so talented he kept future NFL icon Terry Bradshaw on the bench! Only RadarOnline.com has the video of the Duck Dynasty star's 1965 college football debut and the full story of his athletic superstardom.
"As a little kid, looking back on it, I could always throw farther than all the other kids," Robertson told ESPN.com recently. "The point is, a good arm, my man -- you're born with that. You can't teach someone how to do that. It's either there or it's not, you know what I'm saying?"
Article continues below advertisement
Indeed, in high school he was a baseball pitcher and javelin thrower, but found his niche on the football field.
In 1965, the future reality TV mogul started as quarterback for the Louisiana Tech Bulldogs. In his first game, on September 18, 1965 in Rice University's Rice Stadium, he completed three of five passes for 37 yards. Watch the newly uncovered footage of the game below:
youtube=https://www.youtube.com/watch?v=IhJt5zlvsD0&w=560&h=315
"He knew what he was doing back there," Bulldogs defensive coach E.J. Lewis told ESPN.com. "He had a good arm. I mean that booger could chuck that football. He was a good football player, a natural."
He was so good, he was first on the depth chart ahead of future NFL icon Terry Bradshaw.
"I had the arm," Robertson remembers. "The ability was there. Bradshaw probably had me a little on distance. As far as delivery, you could study the films, his delivery or mine, but my delivery was quicker than his …"
Article continues below advertisement
Robertson even set a school record with 302 yards passed in a 1967 game against Southeast Louisiana University. Over three seasons, ESPN found, from 1965-1967, he threw 2,237 yards and 12 TDs.
But ultimately, Bradshaw wrote in his 2001 memoir, It's Just a Game, it was clear to everyone that Robertson "loved hunting more than he loved football."
"He'd come to practice directly from the woods, squirrel tails hanging out of his pockets, duck feathers on his clothes," the former Steelers star remembers. "Clearly he was a fine shot, so no one complained too much."
"I picked ducks in a tub in my dorm room," Robertson admitted to ESPN. "I'd hang deer in the doorway between the bedroom and the little living room in our apartment there, and I'd skin my deer and all the guts would go into the tub and I'd sneak them out so my fellow students on both sides wouldn't see all that, you know."
Finally, at the end of his junior year, he decided to pursue his true passion full-time.
"I loved the game and throwing touchdown passes was fun, but at that time …" Robertson explained, "44 years ago all the way to now, what gave me more of an adrenaline rush, my man, was big bunches of mallard ducks raining down through the trees. It just did it for me and that is pretty much why the ducks took precedence over football. It's that simple."
Robertson's brother, Si, attended Tech as well but dropped out.