'Duck Dynasty' Drug Scandal Exposed: The Habit They Don't Show You Onscreen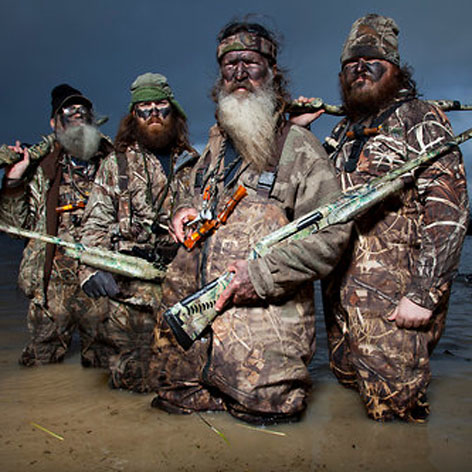 They don't drink. They don't swear. They don't mess around on their wives. But the men of Duck Dynasty aren't entirely without their vices.
According to a new report in Men's Journal, all of the men in the Robertson family have a snuff habit -- and A&E won't show it on the air.
"None of them smoke cigarettes, but all of them dip into the snuff," reporter Erik Hedegaard writes. "Phil introduced them to chew when they were young."
Article continues below advertisement
The report claims, "He had his reasons." Phil Robertson adds, "When you're dealing with young men, for lack of a better term, it's best for them to discover the great outdoors. And in my humble opinion, to make sure they stay men, give them a little chewing tobacco from time to time. Spitting on the ground is a sign of maleness in our culture down here."
Hedegaard notes, "That may be, but it's also another thing you'll never see on the show."
And with good reason. According to the National Cancer Institute, snuff and chew causes oral cancer, esophageal cancer, and pancreatic cancer. It also can cause heart disease, gum disease, and oral lesions. Since snuff contains nicotine, it's also highly addictive.
The use of smokeless tobacco, "is not a safe substitute for smoking cigarettes," the advisory committee to the Surgeon General concluded way back in 1986. "It can cause cancer and a number of noncancerous oral conditions and can lead to nicotine addiction and dependence."
But it's a lot better than what the Robertson men have done in the past. Phil has admitted to drinking and drugging extensively in his 20s, and his brother, Si, also revealed his struggles with alcohol, as RadarOnline.com has reported.