Exclusive
'Duck Dynasty' Stars Branded 'Animal Serial Killers!' PETA Slams TV's Famed Family For Encouraging Criminals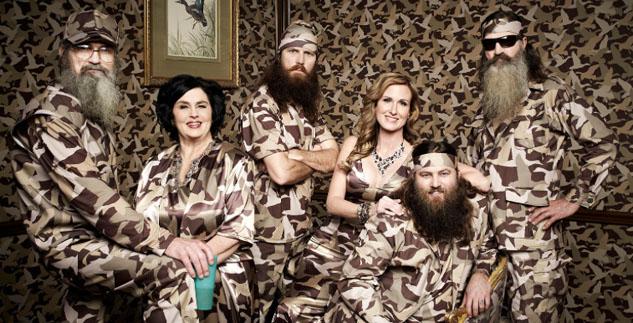 Article continues below advertisement
"Viewers may like to laugh at the Duck Dynasty's cast members, but few would ever want to be like them," PETA Vice President Dan Mathews tells RadarOnline.com.
"Hunting licenses have plummeted by a third over the past two decades and most people have a reverence for animals, and prefer to hike, kayak, snowboard, and generally enjoy the outdoors without killing other beings."
"Unfortunately," Mathews adds, "hunting programs teach kids that violence is somehow acceptable, and according to law-enforcement agencies, violent and aggressive criminals often start out as kids who were encouraged to disrespect and harm animals rather than understanding and being in awe of them."
Duck Dynasty often features footage of animals being killed. Besides the titular birds, the show has also aired footage of the cast skinning and dismembering frogs, which patriarch Phil Robertson called "good, clean … honorable."
Before reality TV fame, the Robertsons filmed themselves committing even more graphic behavior in their "Duck Men" Youtube series. One infamous episode showed a member of the family killing a shot duck by biting down on its head.