'Duck Dynasty' Drama: Willie's Desire For Fame Reportedly Causes TV's Favorite Family To Feud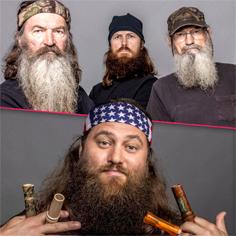 The Robertson family of AMC's Duck Dynasty have always been simple people, and even as their show became a smash hit, it was the family's humble, genuine attitude that drew viewers to the show. But now, according to a new report, one fame hungry family member has broken ranks, igniting a family crisis that could end the show once and for all: Willie Robertson, the family member whose entrepreneurial spirit made the reality show a success, is increasingly hungry for the spotlight, In Touch claims, and his family believes he's gone too far.
Article continues below advertisement
"When the family is resistant to Willie's ideas, he says they don't see the big picture," one source explains. "The truth is, they just don't care as much."
Willie has spear-headed deals for books, a Christmas album, and more, and still "wants them to build a bigger empire," says the source, but the rest of the family is increasingly wary of the spotlight.
This summer, patriarch Phil admitted he wanted the show to "go on without me," and according to In Touch, the younger generation, Willie's brothers Jase and Jep want out too.
Jep and his wife Jessica "fear the show will damage their marriage," the source claims.
But for now, it seems, the Robertsons are willing to go along with Willie's grand schemes. "When the family gets overwhelmed by the attention, Willie talks them off the ledge," a source explains. "He's the force behind all of this."