Duck Dynasty: Family Stands Behind Phil, PETA Politicks, Gingrich Gripes & Much More!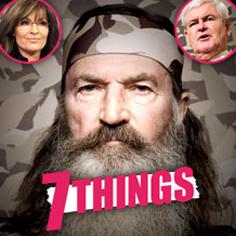 The scandal surrounding Duck Dynasty and its' star Phil Robertson continued at a fever pitch Friday, and we've got plenty of new details for you right here on RadarOnline.com.
As we previously reported, the Louisiana native caused a major stir in telling GQ how he doesn't understand how two men could enjoy making love to one another.
"It seems like, to me, a vagina -- as a man -- would be more desirable than a man's anus," he said in the latest issue of the magazine. "That's just me. I'm just thinking: There's more there! She's got more to offer. I mean, come on, dudes! You know what I'm saying?"
Article continues below advertisement
With Robertson subsequently suspended by A&E, the hotbed issue has taken on a life of its' own, so without further adieu, check out these new developments.
1. We Are Family
The Robertson clan released a statement Thursday via their website, saying in no uncertain terms they come as a package, and "cannot imagine the show going forward" without Phil. This comes as an interesting time for the reality TV family, who are arguably at the peak of their fame with record-breaking ratings for A&E and a merchandising blitz just in time for the holidays.
The full statement read: "We want to thank all of you for your prayers and support. The family has spent much time in prayer since learning of A&E's decision. We want you to know that first and foremost we are a family rooted in our faith in God and our belief that the Bible is His word. While some of Phil's unfiltered comments to the reporter were coarse, his beliefs are grounded in the teachings of the Bible. Phil is a Godly man who follows what the Bible says are the greatest commandments: 'Love the Lord your God with all your heart' and 'Love your neighbor as yourself.' Phil would never incite or encourage hate.We are disappointed that Phil has been placed on hiatus for expressing his faith, which is his constitutionally protected right. We have had a successful working relationship with A&E but, as a family, we cannot imagine the show going forward without our patriarch at the helm. We are in discussions with A&E to see what that means for the future of Duck Dynasty. Again, thank you for your continued support of our family."
Article continues below advertisement
2. When It Rains, It Pours …
PETA, no fans of the show in the first place due to its' nature -- they're rich off selling hunting equipment -- has jumped headfirst into the controversy, calling for the A&E hit's cancellation, and saying the family is hypocritical in touting its' religious beliefs when they're sinning in "hating people and animals." The organization said in a statement it "wants A&E to do more than suspend one of the characters on 'Duck Dynasty' for damning gays. We call on the channel to challenge the entire crew of duck slayers to ignore Sarah Palin's self-serving slap on the back for spewing hate speech and deny that they are as anti-gay as they are anti-animal. All people who consider themselves followers of Christ should follow all His teachings—and that includes showing mercy, compassion, and kindness to all of God's creation, human and nonhuman alike. What's 'sinful' is hating people and animals. PETA asks everyone who consider themselves to be Christian to reject hate speech and call for this show's cancellation."
3. Newt Gingrich Compares Phil Robertson To …
Following Sarah Palin's lead, conservative politico Newt Gingrich has jumped into the fray, supporting Robertson in praising his strong Christian beliefs, and even drawing a comparison between the reality star and Pope Francis. Gingrich said on Thursday's Crossfire that in the GQ article, Robertson "talks very specifically about loving everybody" and "not being judgmental toward anybody. That's God's decision, not his. I mean, it is remarkable. There's sections there where he sounds like Pope Francis."
Article continues below advertisement
4. Sarah Palin: A&E 'Absolute Quacks' To Suspend Robertson, Cites 'Freedom, Free Speech'
Already on the record supporting Robertson, Palin Thursday continued to be vocal about the issue, telling Sean Hannity that the "absolute quacks" at A&E network "really screwed up" in putting the Robertson on ice. "This is all about freedom, free speech," the former vice presidential candidate said. You know, so many American families have spilled blood and treasure to guarantee Phil Robertson and everybody else's right to voice their personal opinions and once that freedom is lost, everything is lost in our country." Palin even threw out a sales pitch in the appearance, saying that should A&E cut ties with the Robertsons, her home network of The Sportsman Channel would "welcome the family with open arms."
Watch the video on RadarOnline.com
5. Expert: Show Too Profitable To End
With the fate of the hugely-successful A&E franchise in limbo, ace publicist Howard Bragman predicted that the powers that be, on both sides, will take the necessary steps to restore order and get back to business, as "There's too much money at stake." With so much to lose, Bragman said he could envision the 67-year-old Robertson patriarch publicly apologizing for his offensive quotes. "Although he plays kind of a hick on TV, I don't think he's dumb," Bragman said. "I think he gets what's at stake here. And I hope people on his team, the network and his producers get the message that what he did was wrong." With the show on hiatus, and nine of the upcoming season's 10 episodes in the can, Robertson probably won't have any filming obligations until March, which leaves plenty of time to smooth things over for all parties involved.
Article continues below advertisement
6. What's Old Is New Again …
A three-year-old clip of Robertson speaking at Pennsylvania's Berean Bible Church during a "Wild Game Supper" at the facility has surfaced online, strongly reinforcing the idea the reality star might have some homophobic tenets. In parts of the clip, Robertson calls gay people "ruthless," "insolent, arrogant God-haters," and "full of murder," again going into graphic detail about sex. "They bow down to birds, animals and reptiles and each other and the first thing you see coming out of them is gross sexual immorality."
Watch the video on RadarOnline.com
7. No Laughing Matter
In addition to politics, one of the comedy community's prodigal sons, Jim Norton, send out a barrage of tweets condemning both the reality star for his views -- and the network for acting punitively toward Robertson for expressing such opinions. He tweeted Thursday, "I think disliking homosexuals is sickeningly ignorant. The only thing worse is being punished for feeling that way … I hope Phil Robertson is allowed back on Duck Dynasty and immediately has a heart attack. #AWinForAll." The feisty funnyman from the Opie & Anthony radio show, then addressed a tweet to A&E saying, "Too bad Phil Robertson wasn't a Muslim quoting the Koran, then you could have just said nothing. #YouWillBackpeddleOnThis