Bristol Palin Slams Critics Of 'Duck Dynasty' Star Phil Robertson: 'If You Don't Agree With LGBT Lifestyle, They Spread The Most Hate'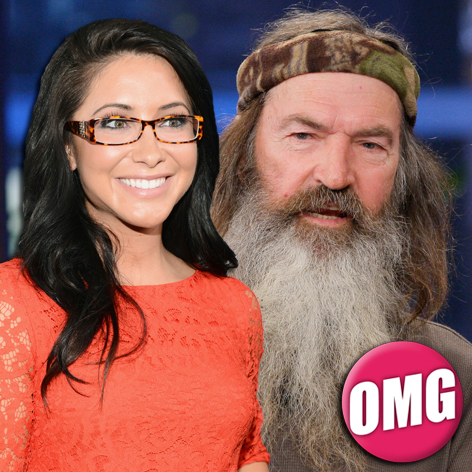 Bristol Palin is jumping into the controversy surrounding Duck Dynasty's Phil Robertson.
"Everyone needs to leave Phil Robertson alone for expressing his beliefs," Sarah Palin's daughter wrote on her blog.
"I think it's so hypocritical how the LGBT Lesbian, Gay, Bisexual, Transgender community expects every single flippen person to agree with their life style. This flies in the face of what makes America great - people can have their own beliefs and own opinions and their own ways of life," Bristol wrote.
Article continues below advertisement
"I hate how the LGBT community says it's all about 'love' and 'equality.' However, if you don't agree with their lifestyle, they spread the most hate. It is so hypocritical it makes my stomach turn. They need to learn how to respect others' opinions and not just jump to the conclusion that everyone who doesn't support homosexuality and gay marriage is homophobic."
Bristol is following in her mother's footsteps in defending Robertson.
As RadarOnline.com previously reported, the one-time VP candidate has already gone public with her support of the reality star, who was quoted in GQ magazine saying, "Start with homosexual behavior and just morph out from there. Bestiality..."
Bristol also has no tolerance for A&E, the network that now airs Duck Dynasty.
"If I were Duck Dynasty, I would take my show to another channel," she wrote.
What do you think of Brisol Palin's support of Phil Robertson? Tell us in Comments.