Cracker Barrel Cracks! Restaurant Chain Returns 'Duck Dynasty' Items To Its Shelves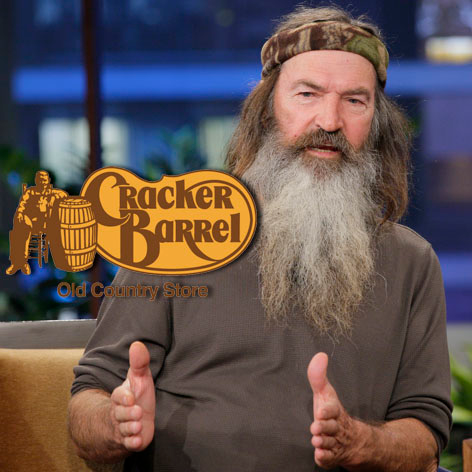 The folks behind the Cracker Barrel Old Country Store chain have backed off -- and big time -- from their earlier position of removing Phil Robertson and Duck Dynasty items from its restaurants.
Just a day after taking Robertson bobbleheads and action figures off the shelves, they've done a total about face, saying in a statement, they'd made a mistake.
"When we made the decision to remove and evaluate certain Duck Dynasty items, we offended many of our loyal customers. Our intent was to avoid offending, but that's just what we've done. You told us we made a mistake. And, you weren't shy about it. You wrote, you called and you took to social media to express your thoughts and feelings. You flat out told us we were wrong. We listened. Today, we are putting all our Duck Dynasty products back in our stores. And, we apologize for offending you. We respect all individuals right to express their beliefs. We certainly did not mean to have anyone think different. We sincerely hope you will continue to be part of our Cracker Barrel family," the statement read.
Article continues below advertisement
Whether the flip flop will impact A&E's decision to suspend Robertson for his anti-gay statements remains to be seen.