Hasn't He Heard Of The Big Red Scandal? Rick Ross Slammed For Celebrating Date Rape In New Rap Song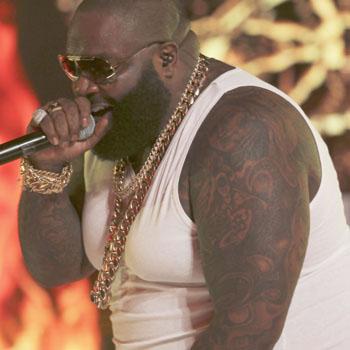 Rick Ross has come under fire for collaborating on a rap track seemingly celebrating violating an unconscious woman.
At least one radio station so far has decided to pull all of the larger than life hip-hop star's songs from its rotation in protest — and the backlash continues to grow each day.
Not even two weeks after two high school footballers were found guilty of raping a drunk teen in Steubenville, Ohio, it has emerged that Ross collaborated on U.O.E.N.O, a highly controversial new track by fellow rapper Rocko.
Article continues below advertisement
"Put molly all in her champagne, she ain't even know it. I took her home and I enjoyed that, she ain't even know it," 37-year-old Ross raps.
"Molly" is the street name for MDMA powder — the purest form of the drug ecstasy.
Several media outlets have lambasted the heavyset rapper, including Ebony.com.
"What's so scary about Ross' line is that this is something that a good number of men and boys actually do," News and lifestyle editor Jamilah Lemieux writes.
"This is not just another terrible rap lyric to be dismissed.
"This is an important teachable moment for young men…who don't understand consent."
A Michigan radio station has gone even further and has vowed to ban all Rick Ross tracks, in addition to music by Lil Wayne, who shockingly equated having rough sex to the horrifying 1955 lynching of African-American teen Emmett Till in a recent rap track.
In a statement released this week 103.7 The Beat said , "Rick Ross' lyrics not only condone the behavior, but he boasts about it in the song."
Meanwhile, the Miami rapper has tried to explain the controversial rap, denying that he is condoning rape in it.
In an interview that aired on hip-hop and R&B station Q93, he said: "It was a misunderstanding with a lyric, a misinterpretation.
"The term 'rape' wasn't used. I would never use the term 'rape' in my records…
"We don't condone rape, and I'm not with that."