Steubenville Rape Accuser Breaks Down In Court: 'I Woke Up With No Clothes On'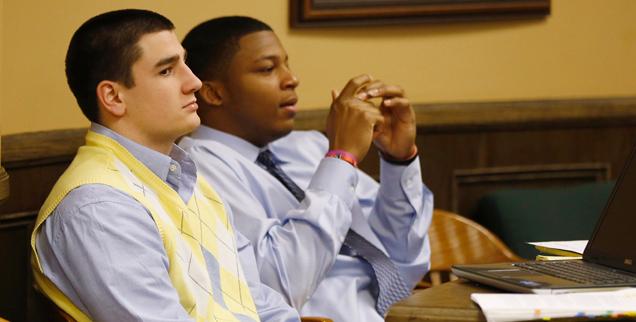 The teenage girl accusing two high school football players of rape broke down in court on Saturday as she was shown photos of herself naked on the floor of the party where she says she was abused.
The unidentified 16-year-old took the stand and said she remembers little of the booze-filled night on which she claims Trent Mays, 17 and Ma'lik Richmond, 16 violated her.
She tearfully recounted waking up naked unable to recall the events from the night before.
Article continues below advertisement
"I was scared and embarrassed and it freaked me out. I woke up with no clothes on and I didn't know what had happened at all," she told the prosecution.
"I was on a couch. My clothes were off. My hair was a mess and it felt weird. They were all surrounding me, just asking, Trent, Ma'lik.
"I asked where my clothes were and they put them on the table next to me. I kind of covered myself with a blanket and got dressed.
MORE ON:
Celebrity Justice
"They told me I was a hassle but they looked after me and put me to bed."
She said it wasn't until the next day when she was sent a video of a student joking about her being raped that she realized something criminal may have gone on.
After texting Mays in an attempt to piece together the night she says he begged her not to press charges for the crimes he claims he didn't commit.
As RadarOnline.com, reported, earlier in the day two of the accuser's former friends took the stand with one, Kelsey Weaver, branding her a liar and the other, Gianna Anile describing her fury at the schoolgirl's drinking.
Three witnesses, Mark Cole, Evan Westlake and Anthony Craig gave their account of what happened in court on Friday when they described seeing the alleged violations take place.
Richmond has accused the girl of 'coming on' to him and says when the controversial picture - where she is being carried by her hands and legs - was taken she was 'clowning around'.
Richmond and Mays - who play for Steubenville's Big Red football team - are being tried in juvenile court. They have both pleaded not guilty.