Steubenville Rape Victim Branded A Liar By Former Friends During Explosive Testimony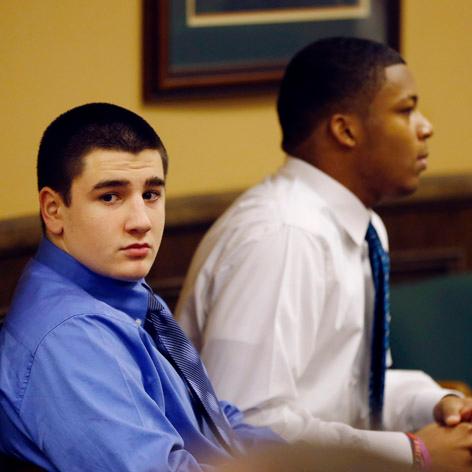 The 16-year old girl at the center of the shocking Big Red football rape case has been branded a liar by former friends who took the stand on Saturday, and RadarOnline.com has all the details.
Ma'lik Richmond, 16 and Trent Mays, 17 are accused of raping the highly intoxicated teenager during a booze-filled night in August 2012 and Kelsey Weaver testified in their defense.
The schoolgirl told the court how she watched the accuser drink four shots of vodka and two beers before flirting with Richmond.
Article continues below advertisement
She went on to describe how the accuser had told her she feared she had been drugged, but that she did not believe her.
When asked by the defense attorney why she had doubts, Weaver said: "because she lies about things."
Another former friend, Gianna Anile, also took the stand and said she was angry over the accuser's drinking and had tried to get her to stay at the party rather than leave with the defendants.
"When I told her not to leave, I was trying to, like pull her back into the party," said Anile. "She was trying to shrug me off. She kind of hit me."
Both girls testified that they ended their friendship with her as a result of the accusations. As is the norm in sex crime cases, the victim has not been identified.
As RadarOnline.com previously reported, the star players for Steubenville's Big Red are accused of digitally penetrating the Weirton, West Virginia native. The alleged assaults occurred in the back of a car and on the floor of a basement.
Article continues below advertisement
A photo of the accused carrying the apparently semi-conscious girl by her hands and legs was posted on Instagram, causing a firestorm.
The girl claims she had no idea what had happened until the next day and some of her texts were read allowed in court.
"Who was there? What happened to me?" she wrote. "I wasn't being a slut. They were taking advantage of me."
One party goer wrote back and said: "You were like you were dead….I seriously felt so bad and couldn't do anything about it."
Three witnesses, Mark Cole, Evan Westlake and Anthony Craig gave their account of what happened in court on Friday when they described seeing the alleged violations take place.
Richmond has accused the girl of 'coming on' to him and says when the controversial picture was taken she was 'clowning around'.
Richmond and Mays are being tried in juvenile court. They have both pleaded not guilty.