Big Red Football Rape Trial Outrage Builds -- Defense Argue Drunk Teen Victim 'Didn't Affirmatively Say No'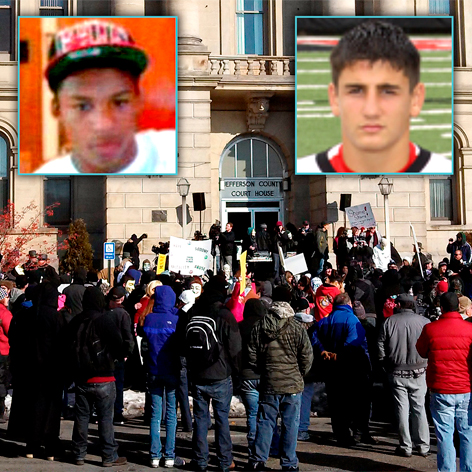 A defense attorney in the controversial Ohio case of two High School football players accused of raping a highly intoxicated 16-year-old girl has argued that the alleged victim "didn't affirmatively say no" when the jocks had their way with her.
Prosecutors in the case claim two star players for Steubenville's Big Red - Ma'Lik Richmond, 16, and Trent Mays, 17 - raped the near unconscious girl, a Weirton, West Virginia native, at an Aug. 11, 2012 teen booze bash.
Article continues below advertisement
Multiple witnesses have said the girl was too intoxicated to be able to give consent to the accused males to penetrate her with their fingers.
"There's an abundance of evidence here that she was making decisions, cognitive choices," Richmond's lawyer, Walter Madison, argued during a hearing at the Jefferson County Courthouse Tuesday. "She didn't affirmatively say no."
Ohio Associate Attorney General Marianne Hemmeter said last fall that circumstances in the incident clearly illustrate a situation in which the girl was not in a state of mind to agree to the sexual acts, which were caught on camera by several onlookers — who, despite not stepping in to stop the alleged rape, have so far not faced any charges of wrongdoing.
"The state doesn't have to prove that she was flat-lined," Hemmeter said. "Everybody agrees she's puking. She's puking on herself. People have to help her walk. She can't talk. She's stumbling."
The girl isn't expected to take the stand in the trial, which Madison jumped upon, claiming her absence erodes at her credibility when it comes to the damaging accusations.
"The person who is the accuser here is silent - just as she was that night, and that's because there was consent," the lawyer said.
The case has been a major source of controversy in the community of 18,000, which boasts strong football roots.
Critics claim the witnesses who let it happen and even filmed it should be prosecuted, while others point to a cover-up on the part of the football team to protect its star players.
The juvenile court trial of Richmond and Mays - both have pleaded not guilty - begins Wednesday. If found guilty, they could be incarcerated until they turn 21.