Prosecutor Says Big Red Football Rape 'Victim' Was 'Treated Like A Toy' - Accused Says She Was 'Coming On' To Him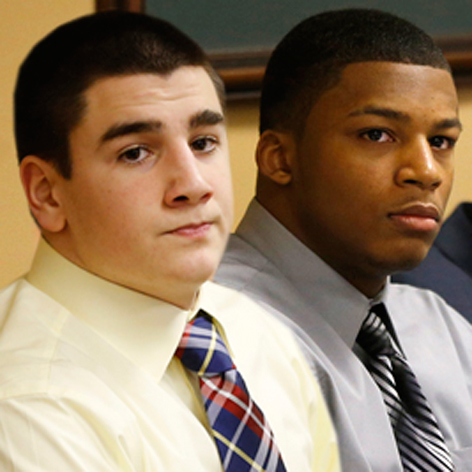 It is the controversial rape case that is dividing an Ohio town.
And now that court proceedings are under way against the two high school footballers accused of raping a highly intoxicated teenage girl. Two wildly different accounts of what happened that night are emerging.
On Wednesday prosecutor Marianne Hemmeter said the defendants Trent Mays, 17, and Ma'lik Richmond, 16, treated the alleged victim "like a toy," the MailOnline.com is reporting.
Article continues below advertisement
She argued that the underage teen was too drunk to consent to sex, saying the 16-year-old was "somebody too impaired to say: 'No', somebody who was too impaired to say: 'Stop.'"
As RadarOnline.com previously reported the star players for Steubenville's Big Red are accused of penetrating the Weirton, West Virginia native with their fingers.
It is claimed that she was violated on a booze-filled night in Ohio in August 2012 that saw the teens go from party to party.
A photo of the accused carrying the apparently semi-conscious girl by her hands and legs was posted on Instagram, causing a firestorm.
One witness testified that the accused trod on the girl's hair at the time the picture was taken. The prosecutor says it was just one aspect of a night of "degradation, humiliation and violation."
Hemmeter also said witnesses will testify that Mays tried "to put his penis in her mouth but because her mouth wouldn't open, he abandoned that attempt."
Article continues below advertisement
But the two star football players argue the teen was aware of what was going on.
In an interview with ABC News 20/20, which airs later this month, Richmond says: "She had her arm wrapped around me and one hand on my chest. It just felt like she was coming on to me."
He also says that she was joking around when the infamous Instagram photo was taken. Richmond adds: "She was just like laughing, we were all talking, just clowning around."
Earlier this week the football star's lawyer said: "There's an abundance of evidence here that she was making decisions, cognitive choices."
Richmond and Mays are being tried in juvenile court. They have both pleaded not guilty.