Exclusive
Aviva Drescher's Dad Blames Andy Cohen, Carole Radziwill & The 'Phony' Reality Show For Daughter's TV Demise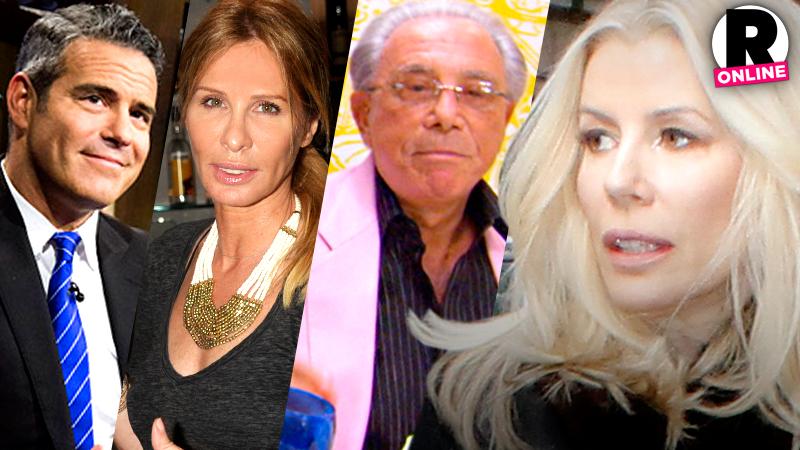 Even after being handed her walking papers from The Real Housewives of New York City, Aviva Drescher is still bringing the drama.
And her dad is fanning the flames.
Listen! 'RHOP' star Wendy Osefo breaks down the "most intense fight in the show's history" in under 2 minutes.
George Teichner, the horny 76-year-old Housewives star who was infamously always looking for love, is crediting his diva daughter for the higher ratings and calls her firing a "big mistake" for show's future.
Article continues below advertisement
"They should have never let Aviva go," Teichner told RadarOnline.com exclusively.
"The ratings were at 2 million, then down to 1.3 million. And the only reason the ratings went up recently is because Aviva threw her leg."
And he's got some fighting words for executive producer Andy Cohen and Drescher's 'Bookgate' nemesis, Carole Radziwill.
"The reason Aviva is gone is because of Carole Radziwill's love affair with Andy Cohen," he said.
"I mean, not really. He would throw up if he saw p***y," quipped the raunchy reality star of Cohen, who's openly gay.
"He's doing nothing but making big mistakes," Teichner continued to rant. "Obviously, Andy Cohen doesn't know what he's doing or he's just played out.
"He just doesn't have any balls."
But Teichner insists despite his bitter-sounding diatribe, he has no beef with the Watch What Happens: Live host.
Article continues below advertisement
"The tension was between Aviva and Carole, who's best friends with Andy," he clarified.
"I love Andy Cohen -- he's a great guy. But in relation to the show, he's lost it."
Teichner is referring to the latest cast shake-up for upcoming season 7 of the Bravo series. As RadarOnline.com was first to report, Bethenny Frankel will be back as a guest star -- a poor casting choice, per Teichner, who had been in talks to get his own reality show with his new 25-year-old bride Dana Cody.
"They should have brought Dana on as a housewife instead of Bethenny Frankel and rehashing the past," he said of the all too familiar faces, which he finds laughable when it comes to creating a successful show.
"People are sick of the typical bullsh*t eastside housewives. They're bringing the same people back to fight with each other again and they never see each other again! It's a joke, but you can't fool the public," added Teichner.
Article continues below advertisement
In fact, Cohen and Radziwill aren't the only ones getting a Teichner tongue-lashing.
"And they're bringing back the phony countess," he said of Luann de Lesseps, who was willing to appear for free and garnered the backing of producers and fans – except Drescher's jilted pops. "What makes her a countess?"
And now that Teichner won't be making any more appearances as a Bravolebrity, the truth about the reality of the show comes out.
"Why do they call it the married Housewives? The whole show is a phony!" he exclaimed. "It is not comprised of real housewives. It should be called Divorced Housewives, Single Housewives or Non-Resident Housewives."
But believe it or not, Teichner agrees with one production decision.
"Ramona's time has been limited," he said of Mario Singer's future ex-wife who will play a limited role next season. "Andy got pissed because she refused to talk about her husband on the reunion, but she should talk about it. That's why she gets paid the big money!"
For now, Drescher is swapping the East Coast for the West Coast on Marriage Boot Camp: "Aviva is furthering her career with other shows," he confirmed.
And newlyweds Teichner and Cody are sifting through TV offers of their own, without Bravo.
"Several production companies are also coming after Dana for her own show centered around her nail salon and our marriage," Teichner revealed. "So we'll bring the ratings with us."