Case Closed! Cash-Strapped Joe And Melissa Gorga Left To Pay Mansion Bills After Their Tenant Moves Out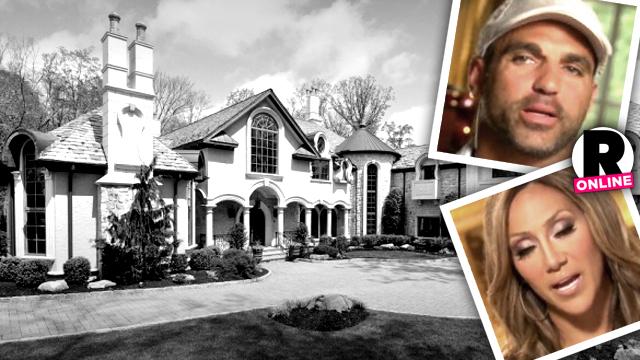 Joe and Melissa Gorga's financial problems just got bigger. That's because the tenant who they unsuccessfully sued to get evicted from their Montville, New Jersey mansion has packed up voluntarily, RadarOnline.com has learned exclusively.
And now the Gorgas are stuck with the exorbitant bills on their dilapidated digs.
"It's done. I moved out," Kai Patterson told Radar. "It's a relief."
The tenant-landlord dispute grew more and more bitter when the Real Housewives of New Jersey stars accused Patterson of failing to pay his rent and ultimately tried to get him booted from under their 13,000 square foot roof.
Article continues below advertisement
Patterson, however, vehemently denied the allegations, claiming he lived in a house of horrors with numerous drawbacks – including water leaks, backyard garbage, broken pipes, and beavers living in the walls -- that were never repaired under the lease purchase agreement.
When he moved in, the businessman said he agreed to pay $10,000 a month in rent and an additional $10,000 per month toward the purchase of the estate. He also put down a deposit of $25,000, which went to the purchase price of the home and for repairs, none of which were completed.
Ultimately a New Jersey judge sided with Patterson, but he was already fed up with the drama.
So, as of September 26 at 5 p.m., Patterson said goodbye to his home of eight months. "The purchase agreement was terminated and we worked it out," he said.
"He Joe defaulted on conditions related to the lease and purchase agreement," Patterson continued. "He wasn't ever going to write me a check so the only way I could recoup my deposit was to get it back in rent."
Article continues below advertisement
After going through the nightmare legal battle, Patterson said he plans to purchase his next home – one that isn't in need of a massive overhaul.
"I didn't want to purchase the Gorgas' house anymore," he said. "I don't need to bash him Joe. It's a closed chapter of my life."
So now, despite having to get rid of their Bentley and still not breaking ground on their "dream home" in Franklin Lakes, which remains an empty lot, the Gorgas will have to come up with the extra cash for their estate while they're paying rent for a much-smaller home nearby.
In hindsight, Patterson admits he should have done his homework about the infamous family that includes Joe's sister Teresa and Joe Giudice, who will be serving serious prison time after being found guilty in a federal fraud case.
"Maybe I should have watched the reality show because I found episodes that people said the house was not worth the value," he said. "At the end of the day he can do with it whatever he wants to do. It was not something I was comfortable with."
"I learned too much about him, Joe, Teresa, and Melissa," continued Patterson. "I was able to get out whole. I'm happy I got out. It worked out."