Exclusive
Joe Gorga's 'Rogue' Tenant Wants To Move Out Of His Mansion & Make Peace – Read The Legal Letter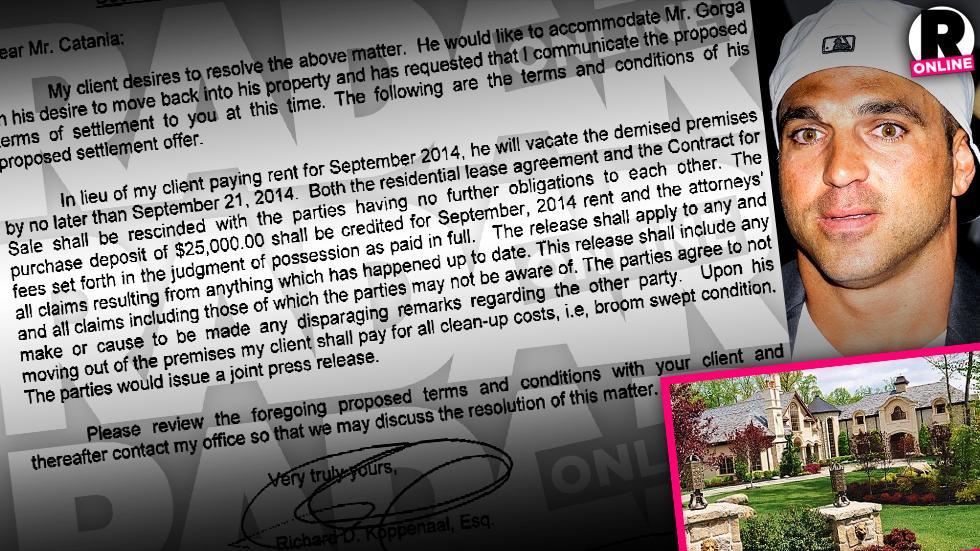 Joe Gorga may thrive on all the drama on the Real Housewives of New Jersey, but his supposedly "rogue" tenant has had enough of it.
After the reality star attempted to evict Kai Patterson from his Montville mansion claiming unpaid rent and their courtroom battle later revealed a house of horrors (beavers in the walls, leaky pipes, and garbage bags!), the businessman -- who hoped to purchase the infamous property -- now wants to move out permanently, according to a legal letter exclusively obtained by RadarOnline.com.
Article continues below advertisement
But he wants to make peace and demands that they collaborate on a joint press release!
EXCLUSIVE DOCUMENTS: See The Legal Letter
In the memo sent to Gorga's attorney Monday, it states that Patterson "would like to accommodate Mr. Gorga in his desire to move back into his property," but not without some settlement stipulations.
Patterson's attorney, Richard Koppenaal, informs Gorga's representative Catania Ehrlich that he will vacate the mansion -- which he had intended to buy through a purchase agreement until unforeseen damage had been found -- by Sept. 21.
The legal back and forth all began back in June when the Housewives couple filed a lawsuit to kick Patterson out of their home, alleging that he reneged on their payment agreement.
Patterson has consistently denied the allegations, claiming that repairs and damage ravaged the house, which Teresa Giudice's brother promised to take care of and never did, leaving the tenant to hire an independent inspection report that uncovered mold, holes in walls and water damage.
Article continues below advertisement
He also claimed he had paid $45,000 toward the monthly rent and the purchase price since he moved in late February, including $5,000 earmarked for the water bill and repairs, and $10,000 in realtors fees.
Since then, they've taken their contentious litigation before a judge, who had typically sided with Patterson until last week when the court ordered him to pay September's $20,000 rent, along with $1,824 in late fees and $7,500 for Gorga's legal fees.
Patterson has now proposed that he'll not only move out, but his purchase deposit of $25,000 will fulfill his remaining financial obligations.
"Both the residential lease agreement and the Contract for Sale shall be rescinded with the parties having no further obligations to each other," the letter reads.
Patterson also agrees to pay for any clean-up costs needed to make the home presentable when he moves out, as stated in the proposal.
He's also asking the Gorgas join him in issuing a press release to the public and that neither party will continue to rant about the bitter legal matter in the public eye.
This surprise settlement may put a serious damper on the Gorgas plans to build their dream home, to which they haven't even started construction. The TV pair actually moved out of the mansion last year after purporting to have sold the spectacular $3.8 million, 13,500 square foot estate and moved into much smaller digs amid reported financial troubles.