Exclusive
Get Out! Charlie Sheen Demands Denise Richards & Daughters Move Out Of Mansion He Owns -- IMMEDIATELY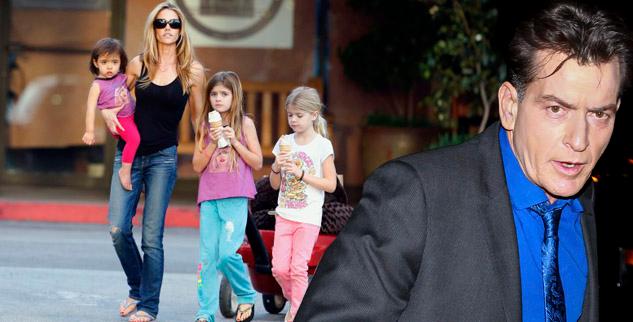 Charlie Sheen has fired the latest missile in ongoing feud with second ex-wife, Denise Richards: RadarOnline.com has learned the actor has told the mother of his two daughters, Sam and Lola, to immediately vacate the luxurious multi-million dollar mansion where she has lived because he has a buyer who is ready to immediately move in.
"Charlie's lawyers have advised Denise it's time to move out of the Mulholland Estates mansion," one source revealed.
Article continues below advertisement
"He has claimed to have a buyer for the home lined up. Charlie wants Denise and the girls out -- right away. Put simply, he doesn't seem to care where Denise moves to."
The insider also claimed that Sheen, 48, didn't make this decision on his own, but was convinced to do so by his soon-to-be-wife, porn star Brett Rossi.
Said one source: "Brett convinced Charlie to sell the mansion, arguing that Denise has cut off access to their daughters, why should he allow her to live in the house for free?"
Just last week, Sheen vowed to go to court and ask a judge to slash his monthly $55,000 child support payment to Richards, 43, the mother of daughters Sam, 10, and eight-year-old Lola.
A source has said: "Charlie hasn't spent any significant time with the girls in several months and thinks it's ridiculous that he continue to pay Denise $55,000."
As RadarOnline.com previously reported, the mercurial actor has been locked in a public battle with the ex-Wild Things star, after alleging Richards wouldn't allow him to spend time with their children during the holidays.
Article continues below advertisement
Last year, Sheen hinted on social media that he would no longer pay Richards as much child support.
The Wall Street star lashed out at her on Twitter and intimated Richards would take a financial hit — vis a vis a reduction of the $55,000 a month he pays her in support — for leaving him out of the loop.
He hash-tagged a subsequent tweet, "#TooMuchChild$upport."
Another said it will be a huge inconvenience for Richards to be forced to move out of the gated community because their daughters go to school in close proximity to the home.
"Sam and Lola's school is currently less than a five minute drive from the house they are living in now," a source has said.
"It would be about an hour drive each way if Denise moved back to Hidden Hills to their school."