Exclusive
Revealed: The REAL Reason Denise Richards Moved Into Charlie Sheen's Neighborhood — Because Their Daughters Were Rejected At Schools Near Her OLD Home After Actor's Notorious 'Dog Poop' Taunt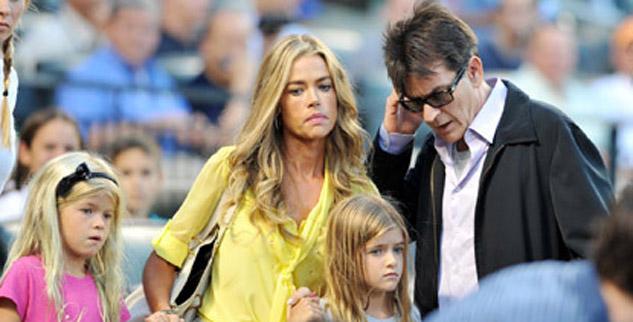 Denise Richards moved into a house owned by ex-husband Charlie Sheen so that the actress could live closer to their daughters', Sam and Lola's school, RadarOnline.com is exclusively reporting.
Last year the Anger Management star went on an epic Twitter tirade against the school his daughters were attending because Sam was allegedly being bullied by another child in her class.
The mercurial actor encouraged his Twitter followers to send dog poop to the school.
Article continues below advertisement
Sam was "bullied out of Viewpoint school and then called a liar" and claimed a classmate, Victoria, was responsible for making his daughter's life a living hell.
The timing of Sheen's tirade couldn't have been worse because the girls had numerous applications pending at several other elite private schools, in which they were ultimately rejected, most likely because of their father's actions.
Richards had been living at her Hidden Hills, Calif. estate, but "had to move into the house at Mulholland Estates because it was much closer to the girl's new school. Sam and Lola's school is currently less than a five minute drive from the house they are living in now," a source close to Sheen told RadarOnline.com.
"It would be about an hour drive each way if Denise moved back to Hidden Hills to their school. It would be fair to say that Charlie's actions are directly responsible for the girls not getting into a school closer to their mom's house, no other way around it."
On Tuesday RadarOnline.com broke the story that Sheen wanted to evict Richards and their daughters from the house they are living in and the actor responded with another vile Twitter message to his ex.