Denise Richards 'Furious' With Charlie Sheen Over Bullying School Vendetta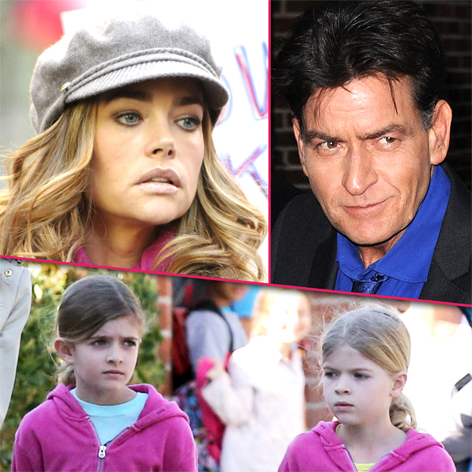 Charlie Sheen should have learned by now — hell hath no fury like an ex-wife ticked off!
The bad boy actor, who has a knack for rubbing his exes the wrong way, has done it yet again - and this time it's the turn of wife number two - as a source tells RadarOnline.com exclusively, Denise Richards is "absolutely furious" with Sheen for waging a public vendetta against the former school of their eldest daughter together, Sam.
Article continues below advertisement
On Thursday, Sheen went on a Twitter tirade, encouraging his legions of faithful followers to send dog poop to the school. The Anger Management star also ranted about how Sam was "bullied out of Viewpoint school and then called a liar" and claimed a classmate, Victoria, was responsible for making his daughter's life a living hell.
"Denise is absolutely furious with Charlie for going public with a family matter involving their daughter," a source tells Radar. "Yes, Sam was bullied at Viewpoint and that's why she no longer goes there, her sister Lola was also pulled out of the school — but, Denise does not think that's something that should be blasted around the world by Charlie.
"Denise was very upset by the school's decision to not take harsher action against the bully, however, both Sam and Lola are in a new school now and doing so much better. The only thing Charlie's ranting did was bring this issue back up, risking Sam's happiness at her new school.
"Denise is a protective mother bear to say the least - and her first priority is always the safety and well being of her three girls," the source adds. "She knows Charlie's heart was in the right place but unfortunately, when he acts like a child there are consequences that ripple down to their kids."
The Calabasas private school issued a statement following Sheen's accusations, "The parent of a former Viewpoint School student who has not attended Viewpoint School since March 2012 has made certain accusations in the media. Our administrators addressed the issue appropriately last year. Our School takes accusations of bullying very seriously. For over 50 years, Viewpoint School has provided a safe and nurturing environment for our students to thrive, and we will continue to do so."