Denise Richards 'Kicking Herself' After Charlie Sheen 'Flips Out' At Kids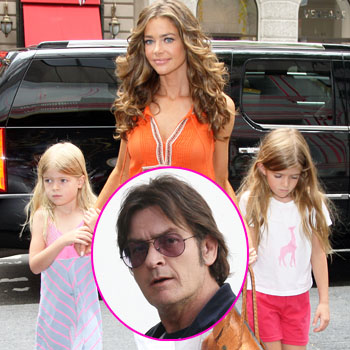 It's been a several weeks since we've heard of Charlie Sheen having a public meltdown, but it seems he's gone back to his "winning" ways once again.
Sheen and his ex-wife Denise Richards went to NYC for the weekend with their daughters and things didn't end up going too well.
At the Monday night NYC premiere of Richards' new film Madea's Witness Protection, Sheen reportedly threw a fit and bailed on the event because their two kids Sam, 8, and Lola, 6, didn't want to walk the red carpet with him.
Article continues below advertisement
Us Weekly reports: "Charlie bugged out and flipped out on them," a source overheard him yell, "Why am I even f--king here? This is the photo opp I wanted!" He then tried to make Denise make them walk the carpet. She refused, obviously.
"They're shy," the source explains of the girls. "They just wanted to see their mom's movie."
The former Bond girl is not happy with her 46-year-old ex over the situation.
"Denise is kicking herself for not learning her lesson," a source says of Richards.
Before embarking on the weekend trip together, Sheen "told Denise that this was a chance for a 'do over' of their disastrous trip to New York from the past," the source says. "Denise was very clear with Charlie that he had to be on his best, best behavior if they were to do this again. She didn't want to put the girls through another nightmare."