Charlie Sheen And Denise Richards Make It A Family Day In NYC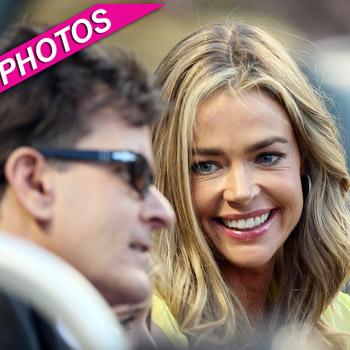 You would have thought they were still madly in love the way Charlie Sheen and Denise Richards were spotted looking at each other Saturday.
The divorced since 2006 couple reunited with their daughters, Sam and Lola, to take in the Yankees vs. Mets game in New York, and it was like old times, only better.
Denise, who broke up -- for the second time -- from boyfriend Richie Sambora last month, seemed to almost have a twinkle in her eye as she stared at Sheen. Of course that could be because her ex recently told Rolling Stone magazine he still thinks Denise is "hot."
Article continues below advertisement
Sheen's new series, Anger Management, premieres June 28, and in an interview he taped with the Yes network promoting the comedy, Charlie said he has no one to blame his epic 2011 meltdown other than himself.
"I wish I could blame it on drugs, but I can't," Sheen said.
RELATED STORIES:
Charlie Sheen Unleashes Obscene Rant On Staples Center Security Guard
Watch Out Denise Richards! Charlie Sheen Still Has The Hots For You!