Watch Out Denise Richards! Charlie Sheen Still Has The Hots For You!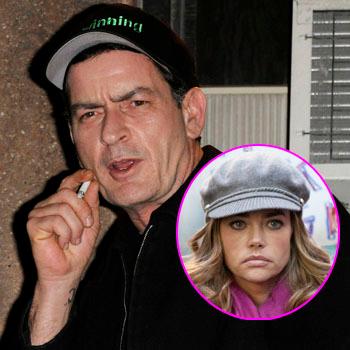 Bad boy Charlie Sheen and Denise Richards ended their tumultuous marriage years ago, but the Anger Management star still carries a torch for his ex.
In the new issue of Rolling Stone, the 46-year-old openly admits he still wants to have sex with the former Bond girl.
"She still looks fu**ing great," Sheen says. "Do I want to? Yeah! Does she? Don't know."
While it's unknown if the mother of two of Charlie's kids (Sam, 8, and Lola, 6) is up for it, she did tell the magazine, that the ex-couple are, "like best friends now. Confidants. He tells me everything."
Article continues below advertisement
Charlie gallantly clears the air though and admits that when he and Denise, 41, travel they, "sleep in separate rooms. Everybody's going to want to know that, too."
In the interview, Charlie also admits he's off the wagon.
"I don't see what's wrong with a few drinks," he says, going on to talk openly about his foot fetish!
"I've not dated girls because of their feet, just the length of certain toes and the shape of where things should be and they're not," he confesses. "Hammertoes are bad. And the second toe being too long? That's bad, too."