Exclusive
Denise Richards Writing Memoir, Calls Marriage To Charlie Sheen 'A Beautiful Love Story'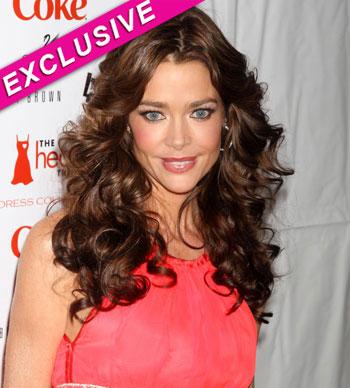 She was married to one of the most notorious bad boys in Hollywood and has had more drama in her 40-years than most woman half her age, and now Denise Richards is lifting the lid on her life to write an 'inspirational' memoir.
In an exclusive interview with RadarOnline.com the ex-Mrs Charlie Sheen opened up about her new book and explained why she wants to tell the world about the love story behind her failed marriage.
Article continues below advertisement
"I get into the good stuff about my marriage, because people have only read the rotten stuff," she said, describing the content of the book which is due for release on July 27.
"So, you know, there was a beautiful love story between he and I and then it went the way it went.
"But I talk more about how I felt during that time, because I think a lot of women can relate to that going through a divorce and custody and being a single parent, trying to work and all that stuff."
But she insists her work won't be a juicy tell-all, giving the most intimate secrets of her time with the troubled father of her two daughters.
"Well it's not a tell-all, but it's hopefully something that's inspiring. I went through a whole lot and I get asked a lot of questions about that time in my life, so I figured I would write my story and hopefully anyone that has been, you know, dealing with challenges will know that there is light at the end of the tunnel."
Article continues below advertisement
And when asked how she has coped during the last six months, as Sheen's wild behaviour has been made more public than ever.
"I'm good," she said. "But the thing is I've dealt with it for a very long time, so it's not new for us. It's just new for other people. But as far as the media, I protect my children from that. I don't keep the news on when they're around."
Despite all the drama, Richards says her fans have kept her smiling through the tough times.