Exclusive
Mad Dad: Charlie Sheen Going To Court To Slash Child Support Payments To Denise Richards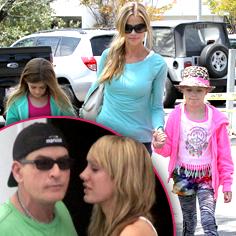 The Bank of Sheen is closed for business.
Charlie Sheen is headed to court to ask a judge to reduce his child support payments to ex-wife Denise Richards, RadarOnline.com has exclusively learned.
The Anger Management star plans on going to a Los Angeles court in the next several days, a source revealed, in a bid to slash the $55,000 he pays the mother of his daughters, Sam and Lola, each month.
Sheen, 48, also wants to evict Richards, 43, from the luxury home he owns and has allowed her to live in, with her three children.
Article continues below advertisement
A source said: "Charlie hasn't spent any time with the girls in several months and thinks it's ridiculous that he continue to pay Denise $55,000."
The mercurial actor has been locked in a public battle with the ex-Wild Things star, after alleging the actress wouldn't allow him to spend time with their daughters during the holidays.
Last year, Sheen hinted on social media that he would no longer pay Richards child support.
The Wall Street star lashed out at her Twitter and intimated Denise would take a financial hit — vis a vis a reduction of the $55,000 a month he pays her in child support — for leaving him out of the loop.
He hash-tagged a subsequent tweet, "#TooMuchChild$upport."