Charlie Sheen Paying Brooke Mueller $55k In Child Support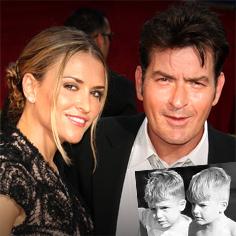 Charlie Sheen has decided to voluntarily reinstate Brooke Mueller's $55k in child support, and is going to allow her to continue to live in a mansion the actor owns with their twin sons, Bob & Max, RadarOnline.com is exclusively reporting.
"Charlie is feeling very generous towards Brooke recently -- this is attributed to the fact that Brooke is allowing him to spend time with the boys," a source told RadarOnline.com. "So he decided to voluntarily begin paying Brooke the $55k in monthly child support. It had been reduced to $20k when she lost custody of the boys, but since Brooke now has the boys back, it was only a matter of time until it was brought up in court.
Article continues below advertisement
The source said Sheen "decided to make it easy on Brooke, and not have long drawn-out talks between their respective lawyers."
Sheen, who once threatened to sell the Mulholland Estates mansion that Brooke lives in with the twins, has recanted on the idea, as "he wants her to remain in gated community where he also lives," said the source.
"It's hard to keep up with!"
Mueller, 36, lost custody of the twins after being placed on a psychiatric hold last year after a drug overdose. Sheen's ex-wife, Denise Richards, became their temporary guardian but was forced to give them after disturbing behavior towards her three children, and family pets.
RadarOnline.com broke the story on Thursday, Charlie isn't feeling as generous about ex-wife Denise Richards, and plans on going to court in the near future to ask a judge to slash the $55,000 he pays the mother of his daughters, Sam and Lola, each month.
Video & Photos: Brooke Mueller's Crack Binge — And $1500 Meth Drug Deal – Caught On Video
Sheen, 48, also wants to evict Richards, 43, from the luxury home he owns and has allowed her to live in, with her three children.
Article continues below advertisement
"Charlie hasn't spent any time with the girls in several months and thinks it's ridiculous that he continue to pay Denise $55,000," a source previously told us.
The mercurial actor has been locked in a public battle with the ex-Wild Things star, after alleging the actress wouldn't allow him to spend time with their daughters during the holidays. Last year, Sheen hinted on social media that he would no longer pay Richards child support, as lashed out at her on Twitter for leaving him out of the loop with his children.
He hash-tagged one tweet, "#TooMuchChild$upport."
Meanwhile, lawyers for Sheen and Mueller are "expected to finalize the the new child support payments and submit to the judge in the next week."
The source said "Brooke played her cards and was victorious." (Or, as they say in the Sheen-iverse, "Winning!")