Exclusive
Buckle Up, LeAnn! Brandi Glanville's Bringing The Drama Back — Controversial Castmember Confirmed For Another 'Real Housewives' Season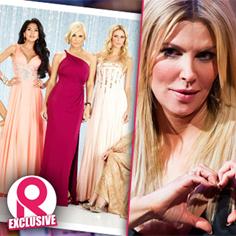 While two of the new cast members on Real Housewives of Beverly Hills have been fired from the hit Bravo show, RadarOnline.com can exclusively reveal Brandi Glanville is not one of them and will be returning for another season.
Sources close to the single mother of two confirm that she will sign on for Season 5 — although negotiations for payment are still being mulled over.
"Brandi will absolutely be back for another season," the source told RadarOnline.com.
Article continues below advertisement
"There were rumors that she didn't want to do it anymore, or that certain cast members were vying to get her off the show, but she really loves doing it and will return."
Newbies Joyce Giraud and Carlton Gebbia didn't make the cut for next season and there are reports that fan favorite Lisa Vanderpump may jump ship.
Despite the changes, there's always the money factor — which the source admits is a huge lure for Glanville, 41.
"She needs the money. It's not like she has another job," the insider said.
"Her books and stuff do well, but she's got two boys and a certain lifestyle to support. She likes the money and notoriety that come along with being on the Real Housewives."
As RadarOnline.com has reported, Glanville and Vanderpump are entwined in an epic battle with each other, which could very well lead into the next season.
"Brandi denies and denies her behavior — and all I can do is throw my arms up and walk away. It's not worth the pettiness," Vanderpump said.
And the Brit admitted even if Glanville were to apologize, she's not ready to accept.
"If you'd asked me weeks ago, I would have said no way in hell; but that would be quite immature of me. Forgiveness would take a lot," she said.
Are you happy to have Brandi back next season, or were you ready for her to go? Sound off in the comments below…