#NotFun! Brandi Glanville Says She's Still In Legal Dogfight With Ex Eddie Cibrian Over Alimony He Overpaid Her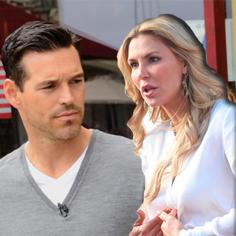 Brandi Glanville has revealed she and ex-husband Eddie Cibrian are still in a legal dogfight over the alimony he allegedly overpaid her!
As RadarOnline.com has reported, Cibrian, 40, served Glanville, 41, with legal papers in Feb., asking for $114,000 that he overpaid her after their 2010 divorce.
Glanville, famed for venting online, has taken to Twitter again to respond to someone who asked why she is so "OBSESSED with whether Eddie is happy and staying in his marriage…?"
Article continues below advertisement
MORE ON:
Celebrity Justice
And while Glanville has said "it's possible" that she received more than the court ordered for her and their two sons, Mason, 10, and Jake, 6, she claimed she couldn't afford to pay him back.
That raised eyebrows because in addition to starring on the Real Housewives of Beverly Hills, Glanville wrote a lucrative best-selling memoir.
Glanville has made a career talking about her sad marital collapse — as Cibrian had notoriously cheated on the star with LeAnn Rimes, whom he later married.