Brandi Glanville Owes Ex-Hubby Eddie Cibrian $114K In Overpaid Alimony -- Claims She Can't Afford To Pay Him Back!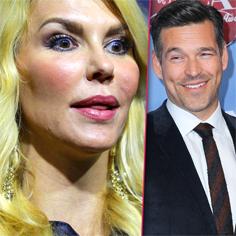 Article continues below advertisement
And on Monday Glanville's attorney let Cibrian know that he wouldn't be getting his $114,000 back, because she can't afford it!
According to her lawyer, Ron Rale, the overpaid money was given to Glanville, 41, four years ago and legally he has a 6-month window to ask for it back so he should have requested it three-and-a-half years ago.
"The lawyer who sent the letter does not represent Brandi in connection with Eddie's calculation of alleged overpayment of support," Rale said.
Regardless of the Glanville's legal woes, she's staying upbeat by tweeting her 539,000 followers on Sunday night: "Hater's can F**KING SUCK IT cuz 'Im Happy' #PharrellWilliams."