Exclusive
Divorce Drama: Brandi Glanville Posts Private Legal Letters From Ex-Hubby Eddie Cibrian, Demanding She Pay Back $114K In OVERPAID Child Support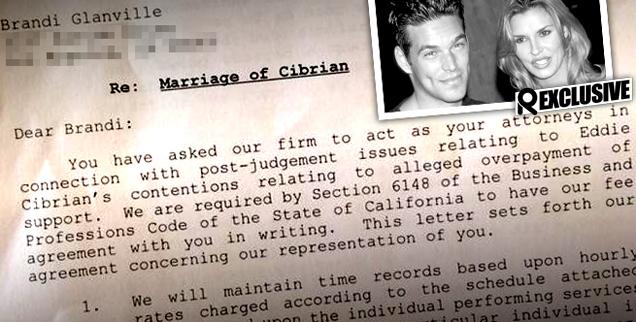 Article continues below advertisement
But the legal letter in fact proves…nothing.
"@radaronline eddie got paid back 4any of my personal expenses during the end of our marriage. #checkurfact," Glanville tweeted (to the wrong RadarOnline.com Online handle!) with a photo of the legal letter below:
In fact, what the legal letter states is that Cibrian overpaid Glanville to the tune of $114,738 — which is likely the money he was asking for," not new child support payments.
As RadarOnline.com previously reported, court records indicate that during their nine-year marriage slated her monthly spending habits at $40,000, including a $3,000 stipend for clothes and $4,000 for eating out and socializing!
Glanville, 41, also published a legal letter on her Twitter page — which she later removed because it showed her home address (which has been blurred by RadarOnline.com to protect her) -- from her attorney which lays out their fees regarding an agreement to represent her.
Article continues below advertisement
Cibrian, 40, told RadarOnline.com on Wednesday via a rep: "There is no truth to the claims that Eddie has requested child support from Brandi now, nor will he ever request child support from his ex-wife. The notion is preposterous. This is yet another ploy for self-promotion."
And an insider close to the situation says, "Eddie's four years of paying alimony to Brandi are up. She received a letter from Eddie's lawyer advising her of this. He absolutely still pays child support, just no alimony any more."