Going Out For A Bite? Cops Detain Man Outside Lisa Vanderpump's New P.U.M.P. Lounge After Bizarre Biting Incident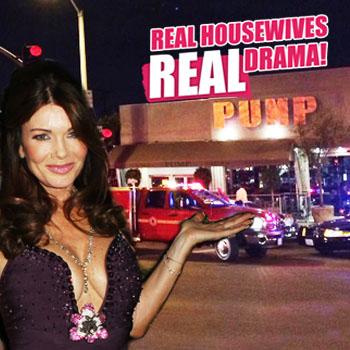 On its first evening open to the public, police in West Hollywood arrested a man outside Lisa Vanderpump's new P.U.M.P. lounge, responding to reports a man had caused a ruckus at the neighboring Abbey by BITING three security guards as well as an onlooker.
Vanderpump and her husband Ken Todd, sources told Radar, notified the authorities of the spectacle unfolding outside, and responding officers took the man into custody at the corner of Santa Monica Boulevard and Robertson.
Article continues below advertisement
In an ironic twist, the Real Housewives Of Beverly Hills star was breaking bread with Abbey owner David Cooley as the hysterics were unfolding, prompting the reality starlet to quip, "Food by Lisa Vanderpump, free entertainment by David Cooley."
As we previously reported, with Pomerania in arm the Brit beauty opened the P.U.M.P. in grand fashion this week, with Bravo luminaries such as Joyce Giraud, Carlton Gebbia and Joanna Krupa in attendance.