Exclusive
'Serial Squatter!' Gorgas' Nightmare Tenant Has Secret History Of Eviction, Landlord Issues, Claims Source — READ The Damning Court Docs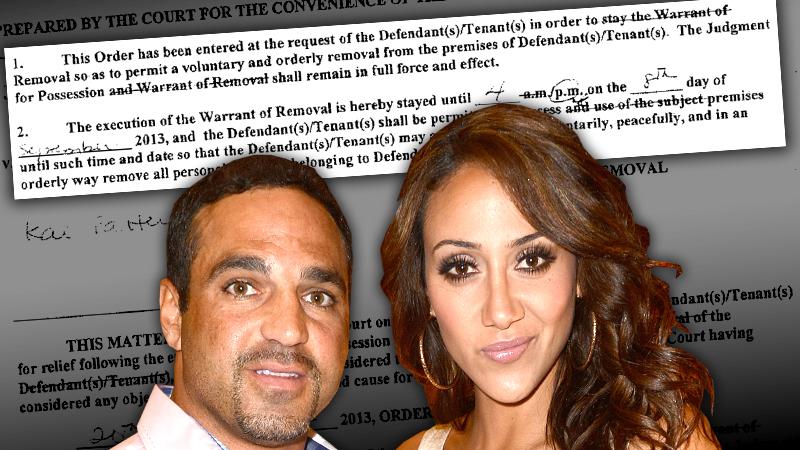 New Jersey native Kai Patterson is not on The Real Housewives of New Jersey, but considering all the drama he's been stirring up with Joe and Melissa Gorga, maybe he should be! After Patterson slammed the reality TV couple, his current landlords, as "slumlords" for renting him a New Jersey mansion he says was riddled with damages and other issues, RadarOnline.com has learned that he actually has a history of eviction proceedings, and according to one insider is a "serial squatter!'
Article continues below advertisement
"This guy is very slick," an insider tells Radar. "Unfortunately he got through the vetting process to even be able to view the Gorgas' house, and then enter into a lease purchase agreement."
But according to court documents obtained by Radar, his history as a tenant is less than stellar.
Court documents filed in New Jersey in 2012 show that his former landlord filed suit to have him evicted from a Saddle River, NJ, property he was renting. According to the court documents, he failed to pay rent from February 10 through October 2012, leaving him $332,500 in debt to his landlord.
Court Docs In His Prior Eviction Proceedings
In November 2012, the documents claim, Patterson told the court that he would settle with his landlords. But by March 2013, he still had not paid, and owed $435,600, the documents claim.
But in what the insider calls an "eerily similar coincidence," Patterson struck back by claiming the property contained "toxic mold that began spreading" shortly after he moved in. He also claimed that he had offered his landlords shares in his company in lieu of back rent.
Article continues below advertisement
In court-filed documents, his landlord later called Patterson a "snake" as they tried to come to terms on a deal.
Patterson finally left the property in September 2013.
Now, it appears history is repeating with the Gorgas as Patterson has claimed that mold and other issues on their property have justified their legal tussling over his back rent.
"The Gorgas are actually scared that they have a professional scam artist and serial squatter squatting in their family's home, with a history of claiming damage and repairs and not paying rent," a source close to the family tells Radar. "He's calling the Gorgas slumlords when he's living for free in their 13,500 square foot mansion …"
What's more, the source adds, despite Patterson's claim that a settlement is underway, "There is no negotiation going on. He may be trying, but the Gorgas are pursuing legal action to remove him from their property. That's it."
"Bottom line is that Patterson doesn't have the funds to rent, let alone purchase the Gorgas' home," the source claims. "If he did, he would have come with a check in hand to the court on June 27 and put the money in escrow until the repairs he claims are needed on the Gorgas' home were done and then the court would release the funds. He didn't have the money so he delayed by showing up late to court."
Article continues below advertisement
The Gorgas recently filed paperwork to evict Patterson after they claim he bounced $20,000 in checks and was delinquent three months' rent.
Patterson, in return, claims his rental agreement was modified last fall to state that he would pay $10,000 per month in rent and $10,000 per month on top of that to purchase the estate. He claims the Gorgas were initially paid $10,000 for rent and a deposit of $25,000 that went to the purchase price and for repairs, none of which he says were completed.