Exclusive
Loser Landlords? Inside Joe And Melissa Gorga's Bitter Feud With Tenant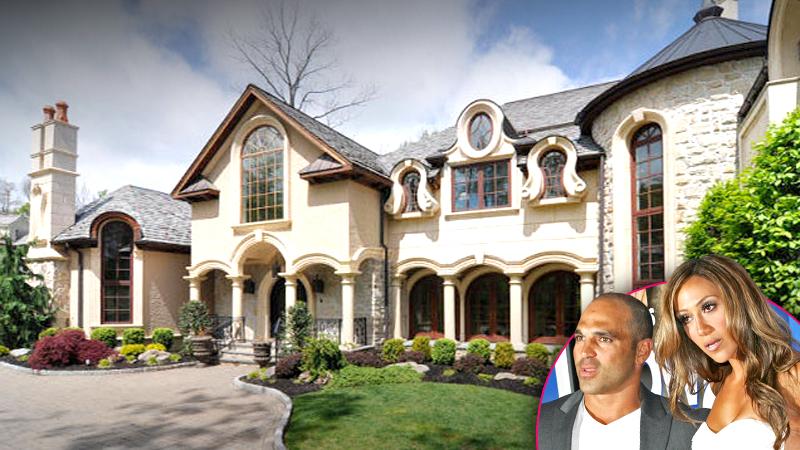 It looks like Real Housewives of New Jersey fans will have to watch the Gorga's latest drama unfold on the small screen instead of in a courtroom. After the couple's tenant accused them of renting him a trashed home filled with garbage and wild animals, RadarOnline.com has exclusively learned that the tenant currently occupying the couple's Montville, New Jersey, mansion is now hoping to "settle the matter" quietly.
Article continues below advertisement
Listen! 'RHOP' star Wendy Osefo breaks down the "most intense fight in the show's history" in under 2 minutes.
More than a week ago, the reality couple filed a lawsuit to evict the purchaser of their home, alleging that he reneged on their payment agreement.
But despite the bitter back and forth that ensued, the tenant, Kai Patterson, says he doesn't plan on moving out and wants to settle amicably.
"We just had a home inspection. We're trying to settle the matter," Patterson told RadarOnline.com exclusively. "I just needed to get a better understanding of the scope of the problems."
He noted, "And as I provided in the terms of the settlement we would not make disparaging remarks about each other."
Patterson said a lot of unforeseen damage occurred after the house was originally inspected last September.
He claims there are a litany of issues that haven't been addressed by the owners, including a broken water heater, construction garbage dumped on the property, busted pipes and faucets, broken fireplaces, water leaks, bathrooms missing shower doors, and cracked marble stairs.
Article continues below advertisement
And that doesn't include the fireplace that was allegedly stuffed with Gorga's t-shirt to alleviate the cold draft and beavers that live in the crawlspaces!
Now, after the walk-through on Monday, there are even more repairs needed, Patterson revealed.
"What I am proposing is I go ahead and pay them and have it credited to the purchase price and that will put this matter to bed," said Patterson, adding that his attorney is preparing the settlement terms and the realtors have been in contact.
"I do want to make sure that he Joe Gorga is aware of what we found," he added. "I am willing to pay to fix it. I just didn't understand the scope if the problems until I moved in.
"Rather than make disparaging remarks or provide anything that would damage the settlement relationship, it's just easier for me to go ahead and do what's necessary to settle and make the repairs and have the repairs be credited towards my purchase deposit," he said.
Article continues below advertisement
Because the Gorgas technically still own the home while they plan to build a new pad in nearby Franklin Lakes, Patterson wants 's brother involved in the process every step of the way by "overseeing the repairs to make sure the home is being properly done."
"He built it and it is his house so I think he deserves that and to know the repairs will be done," said Patterson.
Up until this point, the Gorgas blamed their tenant for providing $20,000 in bounced checks and being delinquent three months rent.
Patterson's version of the story, however, is quite different. He alleges the agreement was modified last fall to state he would pay not only $10,000 a month in rent, but an additional $10,000 per month toward the purchase of the estate. He adds that the Gorgas were initially paid $10,000 for rent and a deposit of $25,000, which went to the purchase price of the home and for repairs, none of which were fixed.
Article continues below advertisement
"I was surprised when they decided to move forward with litigation and the statement," Patterson said. "Sometimes people have their own perspective."
"The terms and conditions of the agreement was that they were to be repaired by them in 15 days," he added. "What happened was the house sat and, unfortunately, the utilities were turned off and that created a host of other problems. We had a bad winter."
Patterson says fixing the problems himself will ensure his quality of life is back to normal.
"If we're able to settle the matter, I think it works out for everybody — the house gets sold, it gets fixed up and the additional things that need to be repaired they'll get done," continued Patterson. "And get the place to a point where I am buying what I thought I was buying."
Even at this point, he doesn't have buyers remorse . . . just yet.
"I don't think it's a money pit," he said. "The issue is you pay to live at a certain level and when you don't, well, what am I paying for? I would rather settle and have this go away and we all operate on a positive level."