Exclusive
Separate Bedrooms! 'RHONJ' Star Teresa Giudice Preparing For Divorce As Husband Joe's Drinking Escalates -- 'It's Sad,' Says Friend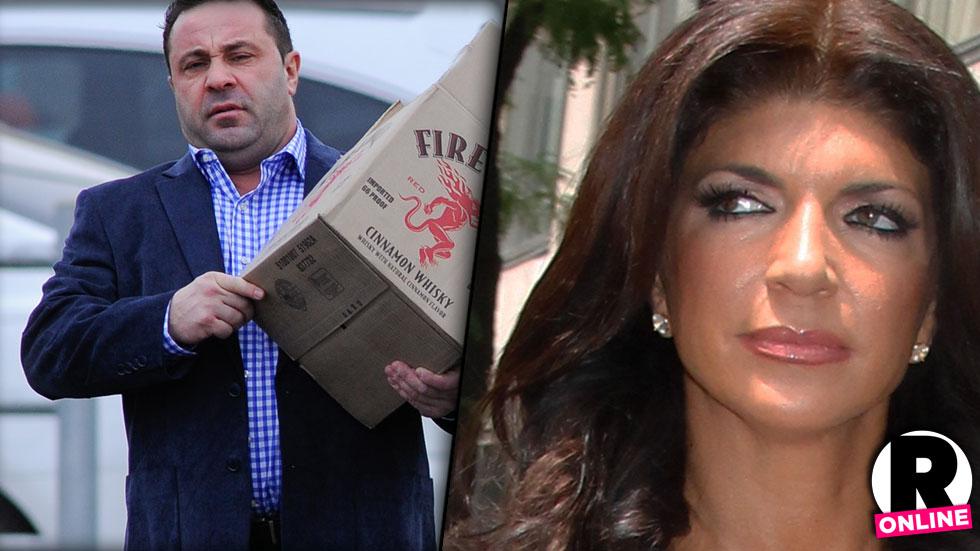 Instead of consoling each other through their legal crisis, as Joe and Teresa Giudice prepare for prison, RadarOnline.com has learned that the couple has descended into marriage hell. According to insiders, they're sleeping in separate bedrooms as Joe's drinking escalates, and their home is about to be sold out from under them. Now, RadarOnline.com has learned, Teresa's reached her breaking point — and is ready to file for divorce.
Article continues below advertisement
"It's really sad," an insider told RadarOnline.com. "Most nights Joe stays downstairs long after Teresa and the girls have gone to bed. He usually drinks a lot of wine, and ends up passing out on the couch."
"When it first started happening, Teresa told him to at least make an effort to come upstairs before the girls got up in the morning," the source continued. "She didn't want the girls to see their dad on the couch first thing."
"Joe did this for awhile, but in recent months, he just doesn't even care what Teresa wants," the source said. "He is beyond pretending that everything is fine behind closed doors. His feeling is, it's his house for the time being, and will sleep wherever he wants."
And to those close to the couple, it's heartbreaking.
"The fact Joe chooses NOT to share a bed with Teresa speaks volumes about the state of their marriage," the source explained.
Article continues below advertisement
But Teresa is just trying to keep up appearances for the sake of their girls. Said the source, "If they didn't have kids, Teresa never would have said anything."
What's more, their lives are about to get more complicated: On Wednesday​, Joe will be back in court to face sentencing on his fraudulent driver's license case.
Teresa "has no plans on going to court with Joe on Wednesday for the sentencing," the source previously told RadarOnline.com. "She hasn't been to one appearance with him for this case, so she figures why now?"
Increasingly, the signs can't be ignored: According to the source, their marriage won't make it through the couple's prison terms.
Teresa "will absolutely file for divorce from Joe once she is done serving her prison sentence," the source told RadarOnline.com. "She would do it sooner, but it would make it very difficult for her to arrange visits with their kids while she is in prison. Whenever Teresa talks about the girls it's always 'my girls,' and never 'our girls.' It's very sad for the entire family."