Aviva Comes Under Fire By Heather, Kristen & Ramona For Name-Calling, Staged Leg Toss & Split Personality On Final 'RHONY' Reunion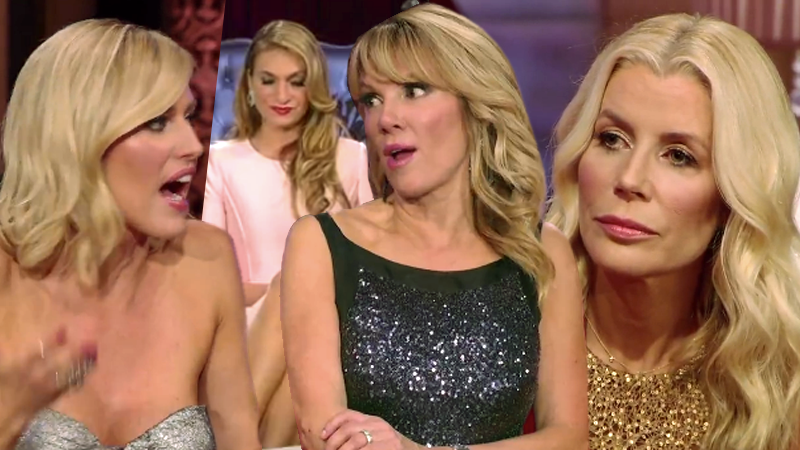 Season six of the Real Housewives of New York wrapped up Tuesday night with part three of the highly anticipated reunion special, as Andy Cohen finally addressed the elephant in the room by discussing Aviva Drescher's prosthetic leg slam heard round the world.
When Andy asked Aviva what possessed her to take off her leg and throw it on the table, she replied, "I had these three shrews coming at me and I just wanted them to shut up and nothing was working… I thought that I would bang my leg on the table and actually it worked because they all fled from the table."
Article continues below advertisement
That opened the floor up to a bunch of witty one-liners by the Gotham Girls.
LuAnn De Lesseps quipped, "You really put your foot in your mouth this time!"
Sonja Morgan followed with, "Usually you throw the towel in, not your leg!"
Aviva ignored the jokes and called Kristen Taekman out for saying that she was going to vomit after seeing the prosthetic leg on the table.
Kristen responded, "I honestly forgot that you had a prosthetic leg. We're having a conversation; there's a leg on the table. I just had this instinct."
Ramona Singer added, "You were horrified. I was too."
When Andy asked if Aviva knew she was going to take her leg off during dinner, she answered that she didn't.
An infuriated Kristen responded, "Well that's bullsh*t! I'm calling your bullsh*t. You watch that scene back and she wanted us around that table."
Aviva said, "I knew I was going to show the X-rays and I wanted to explain my case. I can take my leg off in five seconds.
Article continues below advertisement
"When Heather stood up and said, 'You're a phony and you're laughable,' I was like, 'You know what? F*ck this sh*t.' I'm sick and these girls are on a trip and instead of saying, 'Hey, how you feeling?' It's, 'You're a liar.'"
Aviva also came under fire when she spread a rumor that Carole Radziwill hired a ghostwriter for her book. Heather Thomson stuck up for Carole.
During the clip shown of the argument, Heather called Aviva a motherf*cker, while Aviva asked her if she learned how to curse in prison.
"You were calling me motherf*cker," Aviva said of their confrontation during the season.
Heather responded, "Mother f*cker is a mother f*cker … it's an expression and it comes out in anger with me.
"You should call me an ex-con then if that's what you want to call me because I use foul language. But you said, 'Where did you learn that? Prison?' What kind of stereotype is that?
"The bottom line is that you pushed it to a level that messed with my values and ethics as a woman and as a person. I felt like you were crawling up Carole's back to get attention for your own book."
Article continues below advertisement
Aviva fired back, "I feel like you and me weren't really fighting with each other about anything that had to do with us. I think you were doing your job, which was to be Carole's b*tch!
"This isn't the hood -- this is the Hamptons! You were not brought up in the ghetto girl, holla! Stop acting like something that you're not."
Heather then explained that she was raised by a single mother, and that Aviva was being stereotypical in her comments to her.
When Aviva told her that she acted like a gang member, Heather replied, "Aviva, it's rude and insulting and obnoxious.
"Don't try to insult people in this country who have been a little bit behind the eight ball, okay? How dare you?"
The attack on Aviva didn't end there.
During the special, a clip played of Aviva visiting the barn where she had the accident that forced her leg to be amputated at the age of six.
Article continues below advertisement
Carole and Heather commented on how they miss the woman in the clip.
Heather began, "The Aviva that I saw in the barn is the Aviva that I wish I saw more of … one that's overcoming."
Carole added, "She was easier to smile than the Aviva I've seen all this season."
Ramona then added her own thoughts on the situation: "I really like you, but let's face it, the first season I liked you and then you friggin' turned on me. I thought you were the witch from hell … why do you turn on people like that?
"There is a side of you that is so nice and there is a side of you that's pretty vile."
Aviva replied, "I can't have a conversation with somebody who calls me vile, I'm sorry.
"If you want to know, the answer to the question is when people attack me, I tend to respond with a normal human response called anger."
"You go overboard," Ramona said.