Literary War! Carole Radziwill and Aviva Drescher Continue 'Bookgate' Feud, Slam Each Other Over Ghost Writer Claims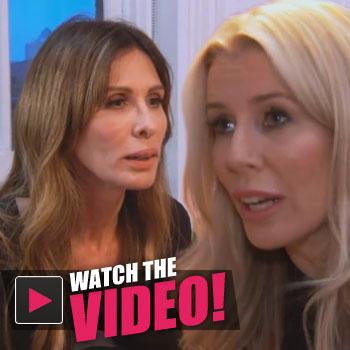 Article continues below advertisement
Outrageous Extravagance! The Secret Life Of Socialites Revealed
After the episode aired, Drescher vented about the blowout fight.
"First of all, in the history of all the Real Housewives, everywhere, I officially declare this the STUPIDEST FIGHT EVER," she wrote on her Bravo blog.
"I was pissed at Carole when she dissed my right to write. See, I don't care if Carole used a ghostwriter, an editor, or room full of monkeys to write her book… I admire Carole for doing her book all by herself; it's a huge task. It was for me anyway… So here are my final words on ghostwriters and ghostwriting: WHO CARES?"
How Housewives Stars Go From Home To Hot – See The Photos
Radziwill – who felt she needed to defend her 20-year writing career -- fired back at her co-star, claiming "bookgate" was merely Drescher's ploy to drum up publicity for her book, Leggy Blonde.
"I don't care that Aviva had a ghostwriter. No one does. The only person who seems to care is Aviva," Radziwill wrote on her Bravo blog, cleverly titled: "This Blog Was Ghostwritten by Stephen King."
"Aviva was looking for a way to promote her book on the show, I get that. She knew that by engaging me in a drama about writing she'd get a lot of attention, which she did.
"There is nothing the Bravo likes more than a Housewife talking about another Housewife behind her back, again and again and again. So if I helped Aviva sell some books, that's great. It's not how I would have done it. But I'm sure my Thank You note's in the mail," Radziwill quipped.