'RHONY' Recap: Aviva Drescher Accuses Heather Thomson Of 'Verbally Raping' Her, As Ramona Singer Returns As A 'Pot-Stirring Peacemaker'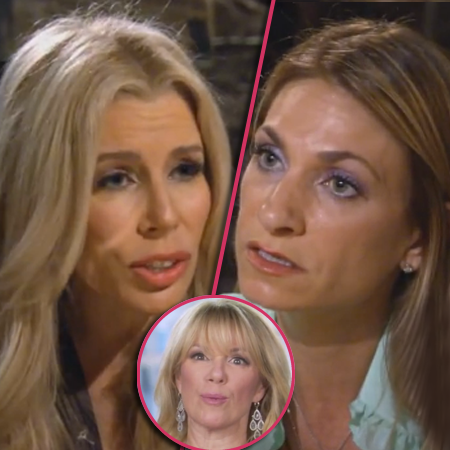 Ramona Singer returned from her family trip to Africa and tried to play the peacemaker between feuding co-stars Heather Thomson and Aviva Drescher on Tuesday's The Real Housewives of New York City.
After a lot of persuasion, Thomson finally agreed to meet the "Leggy Blonde" author. The pair faced off over drinks, as Drescher first accused her co-star of "verbally raping her."
Thomson was shocked by the remark and confessed in an explicit rant that she doesn't like her co-star very much.
Article continues below advertisement
"The things you say about people are really, really vile," Thomson explained.
Although Drescher played coy, Thomson listed a number of things she said about the other housewives.
"You said Sonja Morgan was on a downward spiral like Anna Nicole Smith," Thomson said.
"That was actually a huge compliment," Drescher replied.
An irate Thomson shot back: "She died, Aviva — that's not a compliment!"
Drescher turned the tables and claimed her co-star hurt her "deeply," but when she didn't just come out and say what happened, Thomson lost her cool.
"The conversation with Aviva – there is no substance to it. She just goes on and on and round and round and round," Thomson told the Bravo cameras.
"You have no idea?" Drescher asked her co-star numerous times.
"You want to ask me one more time because you're so f*cking dramatic. What is it? ... You're dramatic. You're f*cking dramatic! I just don't like you that much," Thomson bluntly stated.
"Stop attacking me," Drescher said.
Article continues below advertisement
Thomson went on: "Do you give a sh*t about me?"
"Yes," Drescher said.
Thomson explained that she was "outraged" about how her co-star treated Carole Radziwill for starting rumors that she used a ghostwriter for her book, to which Drescher fired back: "Are you guys lovers are something?"
Disgusted, Thomson added: "This comment tells me she's childish and insanely jealous of my friendship with Carole."
Despite the blowout, she reluctantly decided to invite Drescher to she and her husband Jonathan's 10-year anniversary party.
"Did we make up or not? This is really hurtful," Drescher told the Bravo cameras.
"What kind of make up is that?! If you forgive someone, you forgive them and you move on. That's a half-a** Heather move," Singer said, weighing in on the situation.
Morgan and Singer decided they won't attend Thomson's party because of the diss.
At the anniversary party, Thomson revealed that she made the right decision to not invite Aviva, but was shocked to learn from LuAnn de Lesseps that Singer and Morgan "boycotted" the bash.
Article continues below advertisement
"Ramona is always the sh*t stirrer. It's all a game. I don't like her. Who's to blame? It's that Singer stinger!" Thomson told her co-stars.
Later, Radziwill and Kristen Taekman were joined by Real Housewives of Beverly Hills' Brandi Glanville and Yolanda Foster.
The ladies gathered at Sarabeth's in Manhattan, exchanging stories about their past romances -- including Radziwill's talked-about fling with actor George Clooney.
"We dated literally during the Eisenhower administration," she told the girls of the "lovely" actor, 52.
Meanwhile, Glanville recalled Taekman's epic Las Vegas bachelorette party back in 2004, and said she caught the bride-to-be "kissing" an Elvis impersonator.