'The Only Thing That Is Artificial Or Fake About Me Is This!' Aviva Drescher Tosses Prosthetic Leg At Heather Thomson On 'RHONY' Season Finale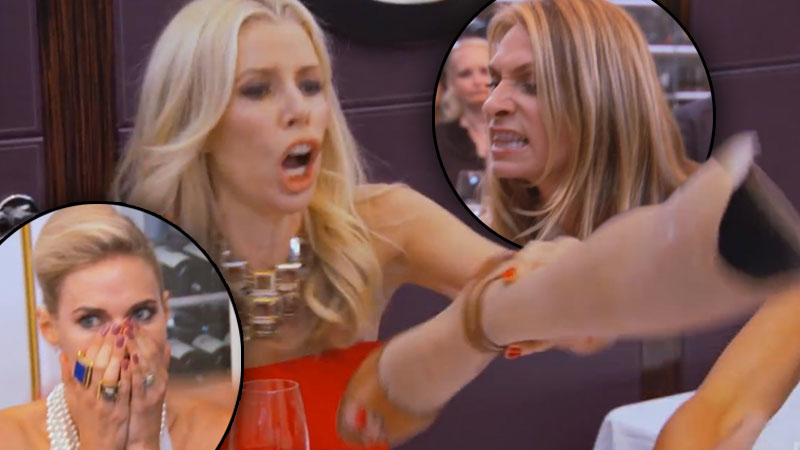 It was the last leg for Aviva Drescher on Tuesday night's Real Housewives of New York season finale, as weeks of constant doubt by the housewives over the beauty's "health ailments" led to one of the most jaw-dropping moments in franchise history.
Listen! 'RHOP' star Wendy Osefo breaks down the "most intense fight in the show's history" in under 2 minutes.
It all started when Drescher decided to skip a week in Montana with the ladies because of her sudden asthma. Despite shoving pill bottles in Kristen Taekman's face, the ladies were certain that her illness was just another excuse to avoid the seemingly boring trip.
Article continues below advertisement
While catching up, Kristen, Heather Thomson and Carole Radziwill discovered that Aviva would be attending a party thrown by Sonja Morgan.
"As far as I'm concerned, she's an outsider at this point," Kristen said in response to the news. "We have had a lot of sh*t go down in Montana and she wasn't a part of any of it.
"She doesn't even know what happened in Montana."
Heather responded, "From the first minute I met Aviva Drescher, I have heard about her phobias and her hang ups. This is all a bunch of bullsh*t."
"I'm so over all of these ailments — what she needs is a mental health check up," Carole said.
When the Gotham girls arrived to the "Team Sonja" party, they were confused about what they were celebrating, as Sonja's team of facialists and dentists were in attendance.
Luckily, Sonja gave a speech that attempted to clear up any confusion among guests.
"Tonight we are celebrating you because you are all part of me and I am you," Sonja began. "And because of you I have finally identified my brand. But most importantly we are here for each other and we come from a place of love inside and out."
Article continues below advertisement
Still confused? So were the ladies.
"No one really understood what the point of the speech was; it made no sense at all!" Ramona Singer said.
Before the city chicks sat down for dinner, Aviva took Sonja to the side to discuss the cast's coldness toward her.
"So they're all mad at me right?" Aviva asked, as the housewives were on the opposite side of the room gossiping about her supposed lies.
"They're emotional vampires," Sonja responded.
Heather then confronted Aviva, telling her that there are bigger issues that she's not facing.
"I just think that there is a laundry list and I think that you need to be honest with yourself about some of the things that I think you try to cover up," Heather said.
Kristen added, "This is not asthma going on here. This is more than asthma. I have done nothing but try to be your friend this whole time."
Article continues below advertisement
Aviva shot back, "You've actually been a horrific person to me!"
After Carole brought up how Aviva lied about her asthma to avoid going on the trip, a prepared Aviva pulled out her chest X-rays as proof.
"My doctor lied to me," Aviva said sarcastically. "My doctor told me I had asthma so severely that I couldn't go to Montana. This is not my chest! It even has my name on it! Can you believe my doctor forged this X-ray?"
Heather said in response: "You say that you have never lied to any of us at the table and you find us really hurtful — I find that laughable."
Aviva fired back, "Let me tell you something Heather. The only thing that is artificial or fake about me is this."
In one of the most shocking instances in the franchise's history, Aviva then threw her prosthetic leg on the dinner table.
"It's unbelievable, I'm sick of it! Heather, why don't you take it, I'll crawl home!"
Aviva then threw her leg across the room at Heather, as everyone watched it fall to the floor.
"I'm going to vomit," Kristen said looking away from the leg.
Carole quipped, "It ain't over until the fat lady sings, or until the skinny bitch throws her leg down!"