'I've Never Seen Someone Throw A Leg,' Jimmy Fallon Tells Andy Cohen Of Aviva Drescher's Leg Toss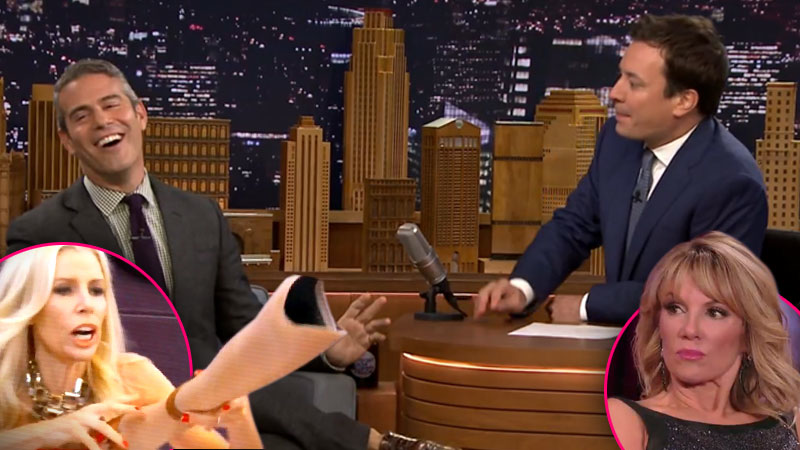 Article continues below advertisement
"Let's talk about this, let's talk about this please. I'm watching Real Housewives of New York, the finale," the talk show host told Cohen. "Aviva gets angry … really mad, so mad. And she has an artificial leg … and the other housewives said something about her was fake. And she said, 'The only thing that's fake about me … and she slams her leg on the table, and then throws it.
"I couldn't believe what I was seeing — I can't un-see that — I've never seen someone throw a leg, with the shoe on it and the painted toenails."
Cohen joked, "The countess (cast member LuAnn de Lesseps) was very upset that the shoe was on the table with the silverware," Cohen said.
Watch the video on RadarOnline.com:
Prodded by Fallon for a scoop regarding the reunion, the Watch What Happens Live host referred to his argument with Ramona Singer.
"Actually, Ramona and I get into it. Usually the interplay is in between the ladies, but actually she and I get into it," Cohen said.
Article continues below advertisement
Fallon replied, "People are starting to fight you now? You can't fight Andy Cohen on Andy Cohen's show!"
Cohen described the circumstances behind the surprising squabble with the Gotham socialite.
"I was asking her some probing questions and she said, 'Well, who are you having sex with tonight?'" Cohen recalled. "And I said, 'When I go on a reality show about my life, I'll let you know!'"
"Burn!" Fallon said. "You mess with fire, you get burned Ramona!"
Cohen, on the show, plugged his upcoming book The Andy Cohen Diaries, due out Nov. 11.
The second installment of the Real Housewives of New York reunion special airs Tuesday on Bravo at 9/8c.