Countess In the Cross-hairs! 'Bully' LuAnn De Lesseps Tangles With Sonja Morgan, While Aviva Drescher & Kristen Taekman Go At It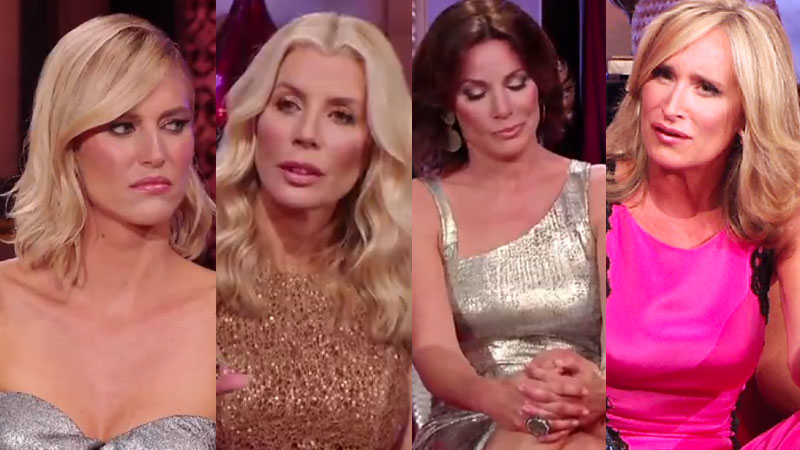 Article continues below advertisement
Host Andy Cohen spent much of the highly-anticipated special focusing on Aviva's quarrels throughout the season.
After coming under fire for cursing in front of Kristen Taekman's young children, Aviva replied, "The reason that I wanted you to shut the f*ck up was because I just wanted you to shut the f*ck up!"
Aviva then defended her word choice by explaining that it was the only way she could handle Kristen's aggression towards her, and that many mothers curse in front of their kids.
"Why don't YOU just shut the f*ck up," Kristen fired back.
During the season, Aviva bailed on a trip to Montana with the city chicks out of fears the high altitude could make her "severe asthma" worse. The ladies refused to believe the excuse, as Aviva continued to defend herself during the special.
"I had known from Sonja that the girls didn't believe I had asthma," she said. "It would be much more interesting to you to say I lied to cover up some massive scandal in my life … but it really was very simple. I had a health condition."
Article continues below advertisement
Ramona Singer then quipped, "I wish I had a doctor's note to get out of the trip!"
Kristen continued to stand by her opinion that Aviva's asthma was an excuse to avoid attending the glam-free getaway.
"We were at your art party and I overheard you talking about having asthma. And I'm thinking, 'when did she get asthma?'" Kristen said. "It was just fishy how I invite you to Montana and you have asthma out of nowhere."
Andy also asked Aviva about her 76-year-old father George Teichman's relationship with 25-year-old Dana Lavette Cody.
"It doesn't freak me out; I really just want people to be happy." Aviva said.
When Andy mentioned that Sonja Morgan changed a lot since her first season on the show, LuAnn De Lesseps agreed.
"I just feel like Sonja has been totally sucked in by the show and I'll be perfectly honest, I think she's changed a lot.
Article continues below advertisement
"After season five I didn't hear from Sonja. I sent her e-mails, I sent her texts and I invited her places. I didn't even get as much as a response. Then I signed back up for season six and all of a sudden I got messages from Sonja."
Sonja fired back, "That is a complete lie!
"I stayed with your children when they were sick and you weren't even there yourself!"
LuAnn continued: "I miss the Sonja that I used to know. She's changed a lot. Always putting me down every chance she gets … obviously there's some sort of jealousy there with me."
Ramona then whispered to Sonja, "Don't answer. She's jealous you're on the show and she's not."
Following insults that Sonja doesn't "live in reality," Sonja yelled, "You're a bully!"
"You're a liar and you believe your own crap!" LuAnn responded, leaving the feud up in the air.
Their quarrel is no surprise, as season six ended with LuAnn leaving a party with Sonja's on-again, off-again boyfriend of 25 years, Harry Dubin.
Article continues below advertisement
Andy also discussed Ramona and Kristen's fight earlier in the season, which left the model with a bloody lip after Ramona threw a plastic wine-shaped glass at her face.
"My intention was never in a million years to hit your face," Ramona began. "It was un-lady like. No one should even throw a sponge. I did it, it wasn't right. I never intended to hurt you."
When Kristen asked where she meant to throw the glass if it wasn't her intention to hurt her, Ramona responded, "Just in the water to make a point."
Part two of the Real Housewives of New York reunion special airs Tuesday on Bravo at 9/8c.