Exclusive
Ready For A 'RHONY' Cast Shakeup? Countess LuAnn de Lesseps Reveals She's 'Open' To Returning Full-Time PLUS Who She Blames For The Show's Dismal Ratings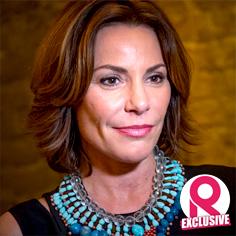 Article continues below advertisement
"I'm pleased and humbled by the fact that they want me on the show full-time," de Lesseps told RadarOnline.com.
"We'll see what happens," she said. "Who knows. … We'll see what lies ahead. I'm open."
This season, however, de Lesseps believes that she made the right decision to switch from full-time to a less-demanding role, since it's freed her up to work on other projects.
"I've been busy doing this dress line," de Lesseps said. "I've got my son going to college, so I've got a lot going on so it actually worked out perfectly for me.
"But it's really nice to hear from the ladies that they really want to have me back full-time," she said. "And you know I am a lot on the show in any case. It feels like I'm still full-time!"
RHONY ratings have tanked since de Lesseps' departure, but the reality star attributes that to the long lapse that occurred between Season 5 and Season 6.
"We took a year hiatus basically, and all the other shows have kept running: Jersey, Beverly Hills," she explained. "They kept their momentum going. We kind of lost our momentum for a moment."
Article continues below advertisement
Still, de Lesseps is optimistic that RHONY will start doing better in the ratings game soon.
"People are loving the show and the ratings have been climbing," she said. "It kind of does that. It will climb. I'm optimistic that the ratings will continue to climb."
And as for the future of her co-star Drescher, who has been on the outs with the rest of the cast, her drama with Thompson and Radzawill doesn't seem to be coming to an end any time soon.
"Don't you remember book gate?" De Lesseps said. "I think that the bellyache is still there. I think the slap still stings."