'She Thinks Between Her Legs Instead Of Her Head Sometimes!': Ramona Singer Condemns Embattled Sonja Morgan's 'Incestuous' Fling With 23-Year-Old On 'RHONY'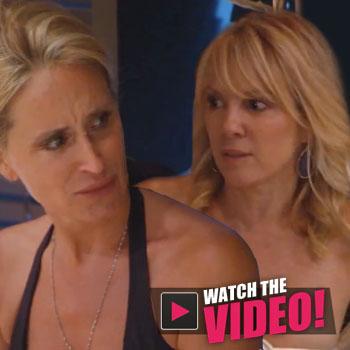 After standing Sonja Morgan up for a sunbathing date, Ramona Singer decided to spill Sonja's financial secrets all over the Hamptons on Monday's edition of the Real Housewives of New York.
"The reality of what's happening to her home, she doesn't want to face," Singer told LuAnn de Lesseps and Carole Radziwill as she revealed Morgan could be forced to sell her beloved townhouse after suffering legal and financial setbacks.
Article continues below advertisement
"Sonja and I aren't getting along, and I don't want to be around her … don't repeat this … but she was supposed to sell her townhouse, but she never did. Selling the house isn't going to get her enough money. This is not good — it's a sad state of affairs," Singer said.
Speaking to the Bravo cameras, de Lesseps said, "I was shocked that Ramona would talk about Sonja and her financial problems. This is something as a friend, you don't do."
"She is in denial about her own life," Singer added.
After the designer house party, Radziwill caught up with Heather Thomson and Kristen Taekman, and asked if they knew anything about Morgan's financial troubles. But they were unaware Morgan was forced to file for bankruptcy because of the $7 million judgment after being sued by Hannibal Pictures for failure to raise money for a film involving John Travolta.
Article continues below advertisement
"Of all the people spreading gossip about Sonja, it shouldn't be Ramona," Thomson said. "There is something going on — there is a disconnect."
Meanwhile, back in New York, Taekman met with a new modeling agent, and was shocked to learn that her modeling days may be over.
"I started modeling when I was 16 or 17 years old… and I have been doing mommy stuff for ten years," she said.
The casting agent tells her the competition is tough in New York and maybe she should try going into acting instead.
"There is still some mileage there," the agent said.
"What am I, a station wagon?!" Taekman said, shocked. "I knew I wasn't going to model forever, but I didn't think it would end like this. What am I going to do?"
Back in the Hamptons, the other housewives confronted Morgan about her financial problems.
"I don't want to sell any house: I've been fighting hard, I'm not throwing in the hat that easily," Morgan said.
Article continues below advertisement
Although Morgan angrily defended all her projects and business plans, she didn't think anyone was supporting her asking, "Does no one listen to me?"
Speaking to the cameras, de Lesseps seemed shocked by Morgan's behavior.
"I know why Sonja is being nasty to me," said de Lesseps. "She has too much on her plate and doesn't know how to handle it all."
Once back in Manhattan, Singer decided to sit down and hash out Morgan's legal drama.
"I've been waiting and waiting for Sonja to address her situation, and guess what, it's just not happening," Singer confessed.
Check Out Radar's Exclusive Pics of Sonja and Ramona's Girls Night Out
"I would really like you to start looking for a two or three-bedroom apartment, if you did need to move," Singer told her BFF.
"How long have you known me? Do I not have nine lives?" Morgan asked.
"I just know how much this home means to you, and I don't want you to be thrown for a loop if the courts say, 'Sonja, it's sold. It's done,'" Singer said.
Article continues below advertisement
Morgan shot back: "It's coming from fear. Listen, I know you're worried. I can take care of myself."
"She has her head in the sand," Singer vented to the cameras.
Later, Morgan decided to invite the ladies to have a spa day, but the peaceful afternoon turns dramatic when Morgan suspected that Singer had something to do with why she was stood up by her 23-year-old boy toy Ben.
"I'm thinking he's too young for you," Singer told her friend.
"I think you're the reason Ben hasn't called," Morgan joked.
But Singer admitted she possibly intervened.
"I'm not meddling with Sonja and Ben. My friend knows his mother and I'm just looking out for Sonja," Singer said.
Waiting At The Altar — 38 Hollywood Weddings That Were Called Off
"She ruined my relationship with my 23-year-old," Morgan told the other housewives.
"He could be your son. It's incestuous!" Singer said. "She thinks between her legs instead of her head sometimes."
"Sounds like Ramona is jealous," Taekman joked, eventually calling Singer "a bully."
But Singer wasn't amused and threw her champagne at the former model.
"Kristen, you're a real b*tch!" Singer shot back.