Apology Not Accepted! Kristen Taekman Vows To Get Revenge On 'White Trash' Ramona Singer — With Help Of Fellow Housewives!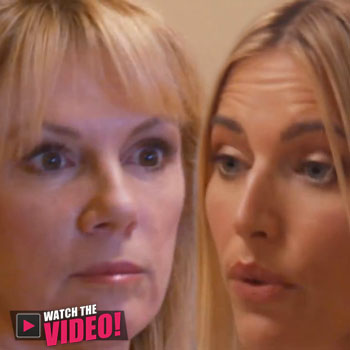 Article continues below advertisement
In another room, Singer confided with Sonja Morgan.
"I can't believe I hit her lip and it bled; that wasn't my intention," Singer said.
Talking to the cameras, Morgan revealed that Singer didn't want to go on the trip to the Berkshires, because it brought back painful memories from her childhood.
"She has suffered childhood abuse, physical abuse, so I empathize this with her," Morgan said.
"I'm turning into my dad," Singer said, revealing that she threw a glass at her father 30 years ago when he provoked her.
"Don't say that, Singer!" Morgan yelled. "You are not your dad! Do not say that. You are not your dad, Ramona."
"It was a knee-jerk reaction: I threw something back without thinking," Singer said, before she went outside to talk to Taekman.
"I was never intending to hurt you. I'm sorry," Singer said to Taekman, who questioned if her's was a genuine apology.
"Sort of, I guess," Singer said.
The pair got into a heated confrontation, as Singer yelled about not wanting to get water on her hair, but Taekman was clearly annoyed with Singer's pseudo- apology.
Article continues below advertisement
"What are you, the Wicked Witch of the Hamptons? Are you going to melt?" she asked. "You have to get over yourself and calm the f*ck down."
"She can't even say, 'I'm sorry I broke your face,' without it turning into another argument," Taekman added.
Watch the video on RadarOnline.com
Unable to stand being around her co-stars, Singer secretly called her friend with a private plane to "save" her from the Berkshires.
While she waited, she decided to go on a hike with the ladies but broke down as uncomfortable childhood memories surfaced.
"Oh my god. This is f*cking unreal. Now I'm freaking," Singer said abruptly stopping in the middle of the woods. "This looks exactly like my backyard."
Singer opened up to Radziwill about her childhood and what it was like living with a verbally abusive, alcoholic father.
"I believe my father moved us to the country so he could just hurt my mother and the neighbors couldn't hear," she said, recalling the painful memories. "It brought back memories of my parents arguing, and that's just something I don't want to remember.
Article continues below advertisement
"As a child to hear that every day is stressful."
Suddenly, Singer lost it, telling Radziwill she needed to get out of the woods because she felt "someone was going to attack" her.
"I'm having a meltdown … you bury memories so deep, you don't want to remember that," Singer said crying. "I have to go. I have to get out of here, seriously!"
Singer confronted Thomson and told her she had to leave and couldn't handle being in the Berkshires any longer.
"I feel like it's best if I leave. Look I've been crying, I feel like I'm back where I grew up. I'm going back into time and it's not a good place," Singer told Thomson.
Once alone with Radziwill, Singer admitted that she needed to be driven to the airport and that one of her friends would be picking her up.
"She had me for a minute. That was some act, not Oscar-worthy, but People's Choice or Daytime Emmy," Radziwill joked.
Article continues below advertisement
"I'm ecstatic that Ramona left early," Taekman admitted. "She's just another angry b*tch. Let's be clear. There is no competition between Ramona and I."
Watch the video on RadarOnline.com
Hours after Singer jetted off, the ladies found out she ditched them to be in the Hamptons. Lesseps revealed that she got a text from a friend, who was partying with Singer at actress Molly Sims' bash.
"She knew she was leaving. This whole 'Milking the abuse story' is getting old. There is no doubt that she was abused in her life, but now she's using it to get out of situations she didn't want to be in," de Lesseps told the gals over dinner.
"Seriously guys, come on," Morgan pleaded. "She wouldn't lie to me."
"She lied to you," de Lesseps repeated multiple times to Morgan, before showing her a photo of Singer at the Hamptons party.
"Ramona is 150 percent out of control on every level," Taekman said.
"I'm getting a little concerned. She had to lie to get away from us," de Lesseps added. "I think we need to have an intervention."
Taekman high fived all the ladies and added: "Finally Ramona, you're going to get what's coming to you!"
"We've never confronted Ramona about her master manipulation, so at this point, we are done. It's going to end right here," de Lesseps.
In one final slam, Radziwill blasted Singer.
"You know how to tell if Ramona is lying? If her lips are moving," she said, as the housewives erupted in laughter.
The Real Housewives of New York City airs Tuesdays on Bravo at 9/8c.