Exclusive
Charity $candal? Khloe Kardashian Donated Thousands To Lamar Odom's 'Dormant' Charity, Tax Records Reveal — Find Out How Much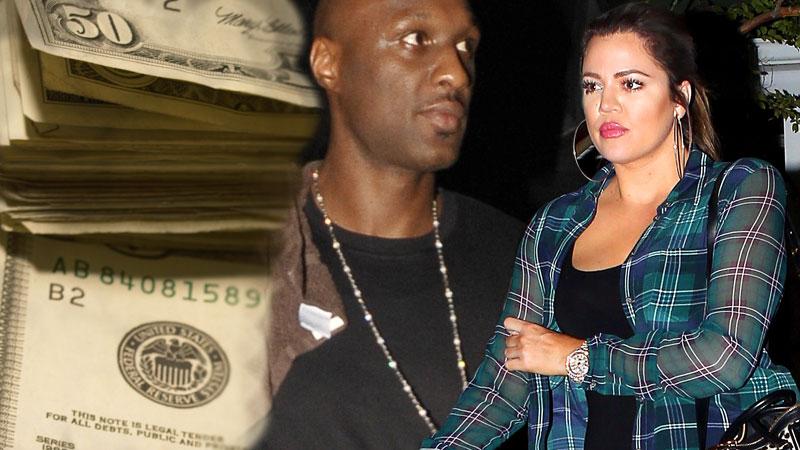 Article continues below advertisement
In March 2013, reps for Cathy's Kids told ESPN that the charity had been "dormant for years." Indeed, a number listed for the charity on tax forms led to accounting firm Boulevard Management, and employees seemed confused about the fund when contacted by RadarOnline.com. One account exec said, "As far as I know right now, it's still dormant."
But despite that inactive status — and the fact that the charity still doesn't even have a website or offices dedicated to the foundation, RadarOnline.com has learned that Kardashian funneled more than $5,000 to its coffers in 2013 alone, and more than twice that amount in the previous year.
According to new tax records obtained by RadarOnline.com, Kardashian's eBay auctions brought in $5,342 that was sent to Cathy's Kids in 2013, despite reps' claims that it had long been inactive. And in 2012, the same auctions resulted in a donation of $11,996. According to tax records filed by Cathy's Kids, that donation was the only donation that the charity received that entire tax year.
Article continues below advertisement
Where did the money go?
Of the 2012 donation, more than half ($6,961) went to "professional fees and other payments to independent contractors," and none of it was distributed as a grant. No tax records for 2013 are publicly available.
ESPN's investigation found that in eight years, "Cathy's Kids never gave any grant money to cancer-related causes and that the charity primarily existed to finance two elite youth basketball travel teams," which they said "could be a violation of tax law."
In addition, Odom's high school basketball coach and the best man at his wedding to Kardashian, Jerry DeGregorio, earned an annual salary of about $72,000 from 2004 through 2011, despite the charity operating at a loss.
"Not one penny of the donations went to help Lamar personally or any member of his family," Kardashian insisted. "No charitable funds were misused, and the IRS has repeatedly given Cathy's Kids a clean bill of health, confirming that there were no improprieties."
Article continues below advertisement
Indeed, the charity still maintains its 5013(c) status, despite the scandal.
But according to tax experts, donating to dormant charities can be a way for the wealthy to lower their own tax bills. In 2012, a spokesperson for the British Prime Minister spoke out about similar practices in the EU, saying "In certain instances, individuals may be giving money to charities and those charities don't in all cases do a great amount of charitable work. The system as it stands can be and is being abused. We cannot be in a situation where very wealthy individuals are able to wipe out their tax bills by using these reliefs."