Khloe Kardashian's Camp Says Lamar Odom Was 'The Target Of An Attack' In Charity Scandal: Not One Penny Was Used Personally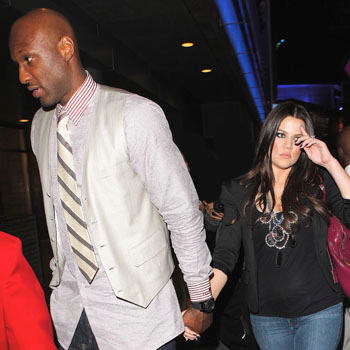 A new investigation claims Lamar Odom and his wife Khloe Kardashian's cancer charity, Cathy's Kids, didn't give one penny of donations to the children in need, but Khloe's camp is firing back saying Lamar was purposely targeted in this scandal and never used any of the money on himself or for any member of his family, RadarOnline.com is reporting.
"It is unfortunate that Lamar Odom has been the target of an attack on athletes' charities, although he has personally contributed approximately $2.2 million to his foundation, Cathy's Kids, to fulfill its charitable purposes that include helping underprivileged inner-city youth," Khloe's reps told RadarOnline.com in a statement on Tuesday.
Article continues below advertisement
"The millions of dollars personally contributed by Lamar constituted more than 90 percent of the money raised by the foundation. All of the funds donated by Lamar and the other contributions to Cathy's Kids were used for one of the foundation's intended charitable purposes. Not one penny went to help Lamar personally or any member of his family. No charitable funds were misused, and the IRS has repeatedly given Cathy's Kids a clean bill of health, confirming that there were no improprieties."
As RadarOnline.com previously reported, Cathy's Kids — named for Lamar's late mother who passed of stomach cancer — has not given any money to cancer-related causes since its creation in 2004, but instead ESPN reported that at least 60 percent of the charity's funds went to finance two elite AAU youth basketball travel teams.
"Cathy's Kids was formed with several purposes in mind, including benefitting underprivileged youth and cancer research. A decision was ultimately made that the charity should focus on one of those purposes — to help enrich the lives of underprivileged inner-city youth," Khloe's reps said.
Article continues below advertisement
"It accomplished that goal. Cathy's Kids helped fund multiple AAU basketball teams providing underprivileged youth with opportunities enriching their lives, providing financial support for coaching and travel to tournaments, helping inner-city youth on a path toward success and leading many participants to go on to college."
But while Khloe's camp maintains the charity made a decision to focus on underprivileged inner-city youth, that was certainly not the message portrayed to the public or potential donors.
"Cathy's Kids was founded by Lamar a few years back to facilitate his charitable efforts which focus on making a positive impact on the lives of under-privileged children as well as targeting a disease that has played a significant role in his life; cancer," Khloe wrote on the couple's official eBay page, which sold items to raise money for the charity.
"Lamar lost his mother to stomach cancer and subsequently is committed to help causes that are focused on finding a cure and helping people who suffer from the disease."
Article continues below advertisement
ESPN's "Outside The Lines" conducted the initial investigation and when they approached Lamar in a locker room about it his response was, "It's my money."
Speaking of money, the charity paid only one executive — Jerry DeGregorio, Lamar's high school coach and best man in his wedding to Khloe, now an assistant coach with the Golden State Warriors — was secretary of Cathy's Kids from 2004 through 2011, for which he was paid a median annual salary of about $72,000, while the charity operated at a loss since its creation.
ESPN reported that the charity's 2011 tax returns show Cathy's Kids is $256,000 in debt, mostly due to a loan Lamar made to the charity, according to his business manager Lester Knispel, who is also the charity's treasurer.
And although Khloe, Lamar and their reps claim the charity did nothing wrong, the eBay page once dedicated to selling pre-owned items from the couple to benefit the charity has mysteriously removed all items for sale as of Tuesday, RadarOnline.com exclusively reported.
On their last day of sales, April 1, 2013, Khloe and Lamar's eBay page brought in a whopping $1,425.06 by auctioning off everything from sunglasses and high heels to pre-owned skirts and pants.