Exclusive
Still Ka$hing In? New Tax Docs Reveal Kim Kardashian Banked Up To $400K From Ebay 'Charity' Auctions — READ The Telltale Paperwork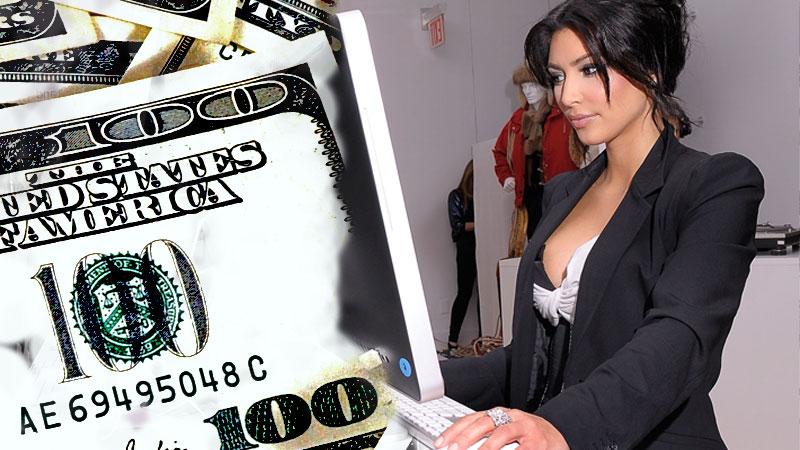 From video games to makeup lines and a new selfie book, Kim Kardashian will try anything to make a buck — and that includes giving back to charity. For years, the reality star has overseen a thriving eBay retail store of her used clothing, giving just 10% of the proceeds to charity. She's defended her stance, but new tax documents obtained by RadarOnline.com reveal that in 2013, that added up to just over $44,000 for one of her favorite charities — and nearly half a million for herself!
Article continues below advertisement
In December 2013, Kardashian bragged about giving 10% of November proceeds to Life Change Community Church, a ministry founded and supported by her mom, Kris Jenner.
And though Kardashian's financial records are private, and the church, as a tax-exempt organization, does not keep public records, RadarOnline.com has uncovered 2013 tax documents from the company that processes charitable giving on eBay, revealing a glimpse of how much Kardashian gave, and how much she kept to herself.
READ The Tell-Tale Tax Documents
According to the Paypal Charitable Giving Fund tax documents, Life Change Community Church received $44,917 from eBay sales in 2013. What was Kardashian's cut?
She's said, "When the eBay numbers get broken down, the auction management agency that posts for me gets a percentage for all their hard work, then, eBay listing fees, end of auction fees, eBay Store fees, Paypal fees, etc, all add up to about half the sale. Then I give 10% to charity."
That means that in 2013, based off the amount Life Change received, the total amount of the sales could be roughly $898,340, making Kardashian's final cut as much as $404,253. (While portions of sales could have come from other eBay members, Kardashian is by far the most prominent.)
Siblings Kylie and Kendall Jenner send a portion of their proceeds to the Children's Hospital Los Angeles, which received $26,831 in 2013.