Exclusive
Khloe & Lamar Scandal Fallout: Charity Money Not His, Situation Handled In 'Really Stupid' Way, Says Attorney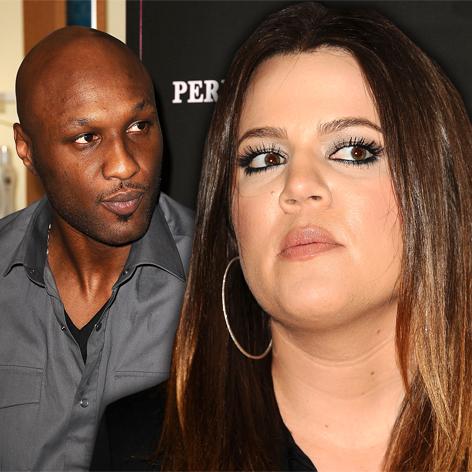 Article continues below advertisement
"Lamar made the comment that the money is his, and I believe it was just a statement out of ignorance because he doesn't understand. Once money comes into the organization, regardless of who put it in there, it's not yours anymore. It belongs to the public. That charity is now stepping into the shoes of the government doing public work," sports and entertainment attorney Andrew Bondarowicz, who specializes in non-profits, told RadarOnline.com.
"At a minimum, someone was really stupid at how they handled this whole situation. His agent was involved and his agent should be telling him not to screw this up. Any good professional around him would remind him that his name is attached to that entity, and they wouldn't want him to have any negative press."
Ken Berger, president and CEO of Charity Navigator agrees.
"Often times I think a lot of charities and a lot of these celebrity charities suffer from cluelessness. You become famous and you get a big head and you think you know things that you may not know. Running a non-profit is just not happy day, there's a lot that goes into it," he told RadarOnline.com in an exclusive interview, noting that it's the taxpayers who suffer when a charity isn't run properly and ends up in the red.
Article continues below advertisement
"Every single taxpayer in essence subsidized that charity so when it's run improperly, we cover the cost related to what they owe," Berger added. "There's just all sorts of strange things here. The mission statement says they're going to do one thing, then they do something else, and then even the something else they say they're doing isn't getting much money!"
Lamar's business manager and the treasurer of the athlete's charity, Cathy's Kids, Lester Knispel, said the Clippers' star loaned millions to the charity, resulting in debt on the organization's 2011 tax returns, but in a statement released by Khloe, she said, "The millions of dollars personally contributed by Lamar constituted more than 90% of the money raised by the foundation" -- so it's unclear whether Lamar's money was a loan or a gift.
"If you made a loan to a non-profit that in and of itself would probably not qualify for a tax deduction, because tax deductions are reserved for pure donations where the donor is not receiving anything in return," Bondarowicz told RadarOnline.com.
"But a donation to a charity would definitely result in a tax break."
Khloe's camp lashed out at the accusations of shoddy charity conduct claiming Lamar was "the target of an attack on athletes' charities" and revealing that they changed the focus of the charity from cancer to enriching the lives of inner-city youth through funding several AAU travel basketball teams.
Article continues below advertisement
However, they didn't inform the public of their new focus, and the AAU has stepped forward to say they didn't receive any charity donations from Lamar's organization, Cathy's Kids.
"When you look at where the money goes, under IRS rules, a non-profit can give to another non-profit, such as the AAU program. It might be unethical, but it's not illegal," Bondarowicz continued.
"Generally when you set up a non-profit the IRS gives you the status which allows you to take donations and deductibility on those donations. Within a non-profit you have to specify the purpose of your charity and the charity work must fall into line with the purpose stated."
In an exclusive interview with CharityWatch president Daniel Borochoff, he tells RadarOnline.com that athletes often start charities as a way to boost their image without having the proper business mind to actually run it.
"I always have a problem when I see a big famous celebrity having a charity. Somebody like him should really just offer to be a spokesperson for an existing charity. Then he wouldn't have to worry about the potential scandal," Borochoff said.
Article continues below advertisement
"If he just wanted to throw money around at young basketball players, he should do just that. You don't need a charity, but since he has one it should be done properly."
And concerning Lamar and Khloe's public image, Bondarowicz tells RadarOnline.com this scandal will definitely be a stain on their reputations.
"People are going to think twice before they look to contribute to a cause that they're associated with, although I'm sure they do some great public work otherwise," he said.
"There will be backlash for other athlete charities in general. I can't say something like this is rare because there are a lot of issues in this space. The charities thrive and do well when the athlete is making money and doing well in his career, but tend to disappear when the athlete's career dissipates."
Berger said, "Donors to charities are putting their trust in that celebrity and in general the most precious thing charities have in relation to their donors is trust, and once you violate that it's all over."
Article continues below advertisement
Finally, there is the issue of the charity's only paid employee being Lamar's high-school basketball coach and best man at his wedding to Khloe, Jerry DeGregorio, who earned a median annual salary of $72,000 — even though the charity has operated at a loss since its inception.
"It's not illegal to have staff for non-profit, however, just like any government job if someone has a no-show job it's going to get scrutiny and reflect negatively. Was his salary justifiable? What were his duties and what is he actually doing to earn that money?" Bondarowicz asked.
"If Lamar Odom set up this charity just to employ his friends and family, then there's trouble. You want the charities to be serving the public in some way. Not private individuals with no public benefit."